4 Stars
Many thanks to my friend
Jennifer
for writing a review that put this little diddy on my radar in the first place. The title pretty much was a "you had me at hello" moment and by the time I got around to . . . .
"Welcome to my workroom. This is where I get rid of the mess."
I was like . . . . .
Sheila Tao didn't really think much about starting an affair with her teaching assistant Ethan a few months ago. I mean really, they were both consenting adults and it was only
kind of
unethical. When Dr. Tao's boyfriend unexpectedly proposed, she knew it was time to cut things off with Ethan. And that's when things got a little . . . .
This was my idea of a perfect Sunday afternoon read. There wasn't a whole lot of focus on the "whodunit" aspect, but rather watching all of the skeletons fall out of the two main characters' closets. The writing style kept the pages turning and the pacing made for not many lulls in the story. Even one particular moment that made me say . . . .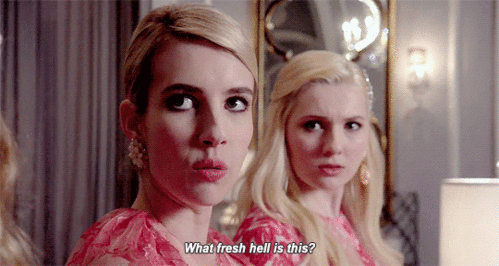 Due to it being the biggest coinky-dink in the history of coinky-dinks didn't lessen my enjoyment
much
. The only thing that did? Seeing this is labeled as part of a series. Ain't nobody got time for that. Jennifer Hillier, you're lucky I had so much fun with this. Generally I would take one of your stars away for that.
If you're looking for a bit darker than the average thriller that might leave you asking . . . . .
"Now who's the psychopath?"
Spoiler Alert: It's probably still me.
DEFINITELY
still Mitchell. But maybe it's you as well.
On the other hand, if you're someone who adds books like this to your TBR simply to bash or not finish or
manwoman
whateversplain to the world how dumb readers are for daring to enjoy things that are obviously sooooo stupid and beneath your literary genius, please do everyone a favor and leave this
off
your TBR. And while you're at it, you can take that attitude . . . . .
Understand????