3.5 Stars

"He said I wrecked him, but he completely destroyed me."
For those of you who live on Mars (or in a bubble), last week was kind of a not-so-great week to be 'Murican. No matter whether you sided with the donkeys or the elephants – if you are a person like me who enjoy
s
ed spending free time on social media you know it all went to hell and pert near errrryone decided to show their assholes. In an attempt to escape reality, I decided to nomnom on this little piece of
pornography
literature I picked up months ago when my buddy
Casey
told me it was free . . . .
Crow
has a 4.0 average amongst my friends so per usual it seems I read this wrong. Please note I didn't read it
wrong
wrong, however. Just sorta wrong. Also note that (as last week clearly taught me) everyone likes a shit show so allow me to tell you what made me not enjoy this one so much rather than what I did like.
#1. The accents . . . . .
Lord love a duck but
Mo
had it right that the Irish accent was just plain turrrrrrible. (The Boston accent was barely used at all, but note I truly appreciated the use of "skeezah" and had a lil' bit of an LOL from it.)
#2. The female lead that can't keep her eye on the prize . . .
Mack starts off tough as nails, kicking some ginormo Irishman's ass in an effin' cage match. Her M.O. is to find a missing friend who was last seen connected with a bar owned by the Irish mafia. About 2.7 seconds after meeting Irish Mafioso (or whatever the Irish equivalent for that job's title is), Mack suffers from a case of magic penis and the missing friend becomes backstory.
#3. The virgin . . . .
Who in the fuck gets off on this virgin shit? Wait, I know the answer and get in your safe space if you're not ready to hear it. DUDES. Dudebrahs prolly find the V Card subplot supah hot, but guess what? It's horny old ladies like me reading these books for the most part so you can go ahead and stop. (Also, I'm pretty sure Alexa Riley copyrighted that trope so at this point she should be the only one allowed to do it.)
#4. The sexytimes exchanges . . . .
I enjoy reading a good alpha male who likes to take charge in the sack, and a bigwig in the mob probably isn't going to be farting rainbows, but the conversations Mack and Lach (and yes you can vomit over those names any time now) didn't work for me. (Note to Mack – if you want to appear to be the alpha's counterpart, you might want to tell him to go eff himself BEFORE he's pummeling the crap out of your vajay.)
#5. The sexytimes themselves. This one is getting 3.5 because not only do I want Ronan's story like SUPERBAD, but also because most of the sex was pretty splooshtastic and had me all . . . .
That being said, along with the virgin storyline and super sassy but not really sassy at all female lead, I'm not a big fan of reading about Bee Jays. Once per book is obligatory (even though the description of how "musky" a man smells makes me totally dry-heave Every.Single.Time.), but this chick was seriously into it and when gangsta is rocking a friggin' tree trunk it's kind of hard for me to picture anything other than something kinda like this . . . .
I can almost guarantee your mileage will vary with this one so please don't remove it from your TBR and remember the kind of place I was coming from while reading/reviewing it . . . .
ORIGINAL "REVIEW":
Because eating 2 lbs of bacon didn't work last night and doing this . . . .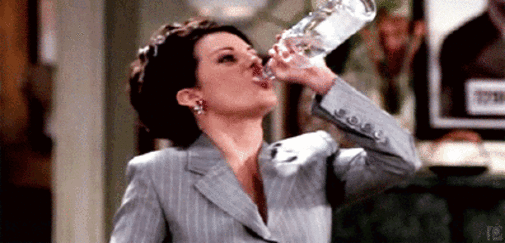 isn't acceptable at work, I'll go to my other addiction to ease the pain - PORNOGRAPHY.