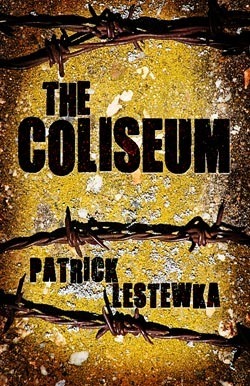 4 Stars
"You feed me and I feed you and that's what makes the world go round . . ."
The Coliseum
. Man oh man. There are so few words. Luckily the interwebs are full of tons of pictures! Let me begin by recommending this charming little tale of prison life be read directly before a huge meal . . .
No, not really. In fact, I don't recommend reading this at all. There's a
very
exclusive section of society who would find this book enjoyable. They are known as
Trudi
and Mitchell.
Welcome to
The Coliseum
- the newest type of supermax prison. With the death penalty off the table, a group of lobbyists get approval for a former hockey arena to be . . . .
renovated
in order to keep the worst of the worst type of humans off the streets. Once you enter the Coliseum, it's every man for himself. The guards are on the
outside
, the food is dropped from the sky, it's every man for himself. The only bright side is the neverending loop of that wonderful Huey Lewis and the News tune "Hip to be Square" . . .
This is the story of what happens when Albert, a man who probably shouldn't have bought himself that present . . .
offs the wrong guy who was banging his wife. It's also about Jackson, the charming religious zealot who Jim Jones'd his followers . . .
And last, but certainly not least, it's about Harlan . . .
a fella who wasn't ever quite the same after his run-in with "Groundskeeper Willie" as a child. (Sidenote to anyone who gives a poop: Harlan will go down as one of my fave characters this year.)
Speaking of poop . . .
There's a lot of poop in this story. And entrails. So many entrails. As I stated right from the jump, this one isn't for everybody. Buuuuuuuuuuuuuuuuuuuuuut, if you are of sound mind and rock-solid stomach, you should go for it. Ain't nothing like discovering one of my favorite authors had an even darker persona than the one I've already experienced . . .
Many thanks once again to Trudi. Without her review I wouldn't even know this book (or pen-name) existed. Wait, what you got there, Trudi????
Whew! Just some more Kool-Aid? I'd
loooooooooooove
another cup.