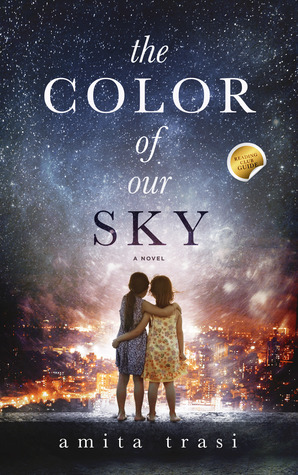 3.5 Stars
(rounded up for the prettiest cover I've seen so far this year)
"The only way we can rectify our mistakes is to try and undo the wrong we have done."
This review is brought to you by . . . .
Do you ever actively search for something that you know will bring you down? It's been raining here for like 74 years and
The Color of Our Sky
looked like it might be a winner in the
"No, I Don't Have Seasonal Affective Disorder, I Just Read a Sad Book"
category. I was spot on. I mean, look at this synopsis:
Mukta was born to a long line of temple prostitutes and due to the caste system fulfills her destiny at the tender age of 10. Tara was born to a middle-class family and a father who feels obligated to save as many children as possible from the horrible fate that awaits them. When Mukta becomes one of the children Tara's father brings home, life changes for both girls as their friendship develops. But when Mukta is kidnapped Tara blames herself. Tara remains haunted by the past so much so that as a grown woman she embarks on a journey to find the missing Mukta and save her once again from the brothel.
There you have it. Basically this reading experience can be summed up with a few simple words . . .
If you're looking for a real heart-ripper-outer, this might be the book for you. I had a few problems with the story – mainly how a woman who worked three jobs in the U.S. was able to travel to India indefinitely with no means of income (especially considering her father's wealth (or possible lack thereof when they immigrated to America) was never really detailed) and also how the corruption of various charity and welfare organizations in India was never brought up at all. The second issue could be due to me reading
Behind the Beautiful Forevers
not too long ago, though. However, if you are a reader who is able to just enjoy the story for what it is and can go without having
every
question answered you probably won't have any issues at all. The writing was solid, the timeline flowed nicely from past to present and the characters were all well-developed. Just remember you need to go into this one knowing that whenever you think things might look up, they probably aren't . . .
ARC provided by NetGalley in exchange for an honest review.
Thank you, NetGalley!