5 Stars
I already
wrote
pictured up a review
for the print version of this some time back, but when faced with potential solo couple hour long road-trips I decided it was high time to give the audio a checkout . . . and then immediately started listening to it because I need instant gratification at every single moment in my life. Bonus was that I listened to it with the oldest (literally a legal adult so don't @ me about what a bad mother I am – I'm a bad mother for a whooooooooole bunch of other things worse than letting him listen to an audiobook with cuss words).
I stand by my assessment that this is one of the best of the bunch if you are a superfan of SNL and want to know the inside scoop. Despite the fact that Spade is not only absolutely adorable and someone I want to be besties with since he always makes me laugh . . . .
He was smart when it came to this release and kept the content at what the majority people want to know: his time/the inner workings on SNL and his friendship with Farley . . . .
His other successes . . . .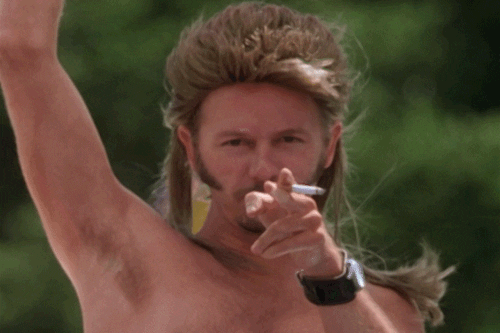 Are little more than mere mentions. (He doesn't really talk about Just Shoot Me (and doesn't mention Rules of Engagement at all), which makes me wonder if there's a story there.) And now I know why. Because he's savvy enough to know no one's going to buy the cow if you give all the milk away for free and saved some stuff up for this . . . . .
Yes please. Momma need dat.
Obviously my 5 Star rating still stands. I'd give him 10 if I could and I'm so glad Lights Out with David Spade exists to satisfy my pop culture nerd and trashy reality television story cravings.