4 Stars
Did you know a person can be murdered by ragweed? Okay, maybe that's an overstatement, but the ragweed count where I live is tryna kill me, bruh. When I'm feeling uggy, there's only one thing to do . . . .
That's where my go-to-gal Molly Harper comes in. Both her Southern Eclectic and Naked Werewolf series have served as brain candy in the past and since Halloween is just around the corner I thought some more shifty good times were in order.
The story here is about our leading lady Jillian's new job down in the swamp. She works for an organization called "The League" (extraordinary gentlemen excluded this go around) and has been sent to Cajun country because . . . .
Your town represents one of the few settlements where supernatural creatures from nearly all cultures live and work together in relative peace, and have for generations.
Jillian's assignment is to figure out just how these beings have been so successful with their integration before all of us normies discover that everything we ever read about in fairy tales is real and to prevent a "War of the Worlds phenomenon all over again" – because, in case you aren't aware . . . .
The only person in town who isn't so keen on letting her in on all the community secrets is Bael, the local sheriff. You know what that means, right? They gonna bang . . . . .
Hey Girl. Yes. Cool people are.
Of course the sheriff in question looks something like this . . . . . .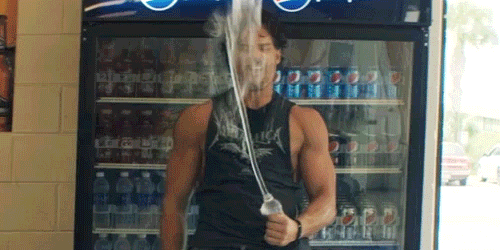 So major sploosh. And also, per the title . . . . .
Things are gonna get HOT! *ba dum ching* I'll be here all week, folks.
Oh, and random supes are popping up dead because DUH, it's pretty much obligatory for books like these to have a bit of a mystery for these meddling kids to solve.
This book made me like . . . . .
Jillian wasn't a pushover/damsel in distress - Bael was sex on a stick without all of the alpha male B.S. that doesn't always work for me. There was humor and there was whodunit. What more could a gal ask for in her smut?
I'm definitely reading the next one. I mean who
doesn't
want to have sex with a grizzly shifter????