3 Stars
Historical fiction is not typically my wheelhouse, but when I heard that
The Lost Girls of Paris
was about a group of female spies in WWII, I was all in. It seems this plotline may be the new
Gone Girl
as I've seen several new releases regarding women in WWII all over my Goodreads' feed, but I wanted it pretty much due to my one and only experience with this topic -
Code Name Verity
. The story here is about a woman named Grace who notices a suitcase in Grand Central Station that appears to have been left behind. In an attempt to track down the owner, Grace discovers it was a woman who ran a branch of the Special Operations Executive which used females as operatives a few years prior.
Although a 3 Star rating should never be considered bad by any stretch, since I appear to be on the low end of the spectrum amongst my friends I wanted to make it clear that I read this book in a matter of a few hours, so obviously the page turnability factor was 100% present. It most certainly kept my interest. With that being said, I did have some issues that I couldn't ignore so let's get .giffy with it. First of all . . . .
The timeline here was expedited. It seemed like it went from creation of the women's division to the deployment of the trainees in about 3.2 seconds. And about those trainees. I have this to say about Marie (the one this book chose to focus on) . . . .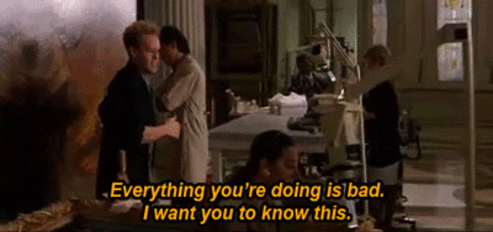 Seriously. Homegirl gets dropped in the middle of enemy territory and is basically like "hey guys I'm British pretending to be French. Can somebody help me find my secret hideaway and the radio they're supposed to be dropping off in order for me to tell all your secrets????" You're probably assuming I'm over exaggerating, but sadly it's not by much. I would have preferred to read snippets of all dozen women's experiences (or at least Josie's) in order to counterbalance the "meh" which was Marie.
Which brings me to my biggest gripe of all. This book had so much potential to focus on . . . . .
What happened instead???????
Oh noes . . . . .
This ended up being a pretty chicky option in the historical fiction genre. And the instalove between a supposed spy and the gristled lifer who ran in the entire operative in Paris?????
I need an epi-pen if I'm going to get past the violent allergic reaction I have to that scenario.
ARC provided by the publisher in exchange for an honest review.