4 Stars
The Casual Vacancy
has been rated by nearly a quarter of a million Goodreaders and (in case you can't tell by the 3.27 rating) a good chunk of them weren't terribly impressed. Although I've already trolled my
nemesis
pal Ron 2.0 about reading this wrong, I'm not entirely convinced he did this time around. I'm also not going to try to convince any of you to read it. I'm fairly certain J.K. Rowling won't have to resort to prostitution for my crap review not generating an additional book sale. Instead I'll do what I do best – not talk about the book at all.
Stephen King wrote a review on this book and made a spot-on comparison to another seedy little novel about the goings on amongst the population of a quaint little hamlet . . . .
(Although that was the first story that came to my mind, I couldn't help also thinking this was a less stabby version of King's own
Needful Things
due to all of the characters being absolutely wretched. However, it's in pretty shit taste to name drop your own book so mad props to you for keeping it classy Uncle Stevie.)
When I was a kid I
looooooooved
movies like
Peyton Place
(and someone please remind my geriatric self that would be a good selection for Banned Books Week) and I was so envious of Jimmy Stewart in
Rear Window
. . . .
Who was able to peep on an entire apartment complex across from him when he was laid up (I totally would have been cool with having two broken legs if it meant I could people watch all day). Although Turner Classic Movies was a channel that played on the regular at my grandparents' house, I had little interest in the happily-ever-after romances and giant production numbered musicals. Instead I tuned in over and over again to films like
A Place In The Sun
(are you familiar with that one? Dude knocks up his fat white trash girlfriend and then kills her when it looks like he has a shot of living the country club lifestyle with Elizabeth Taylor) . . . .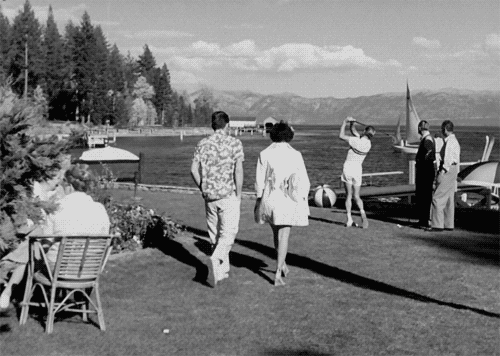 What can I say? I was a weirdo pretty much from the start and
The Casual Vacancy
fell in line with those mentioned above as being my type of story. The only decent human in the entire thing? Dead on page 1. Every other character ranged from depressing to despicable. Buuuuuuuut, even though I loved seeing how warped Rowling's mind could go, this sucker was a slog. It took three solid days of reading to get through and if you know me, you know that's a long time. It's also a book where nothing really happens . . . . while everything is building up to happen. The big payout does come at the end but it is not without some serious investment in the lives of these townsfolk.
So read it if you want, don't read it if you don't want. And be thankful you won't recognize yourself in any of these characters. Especially Samantha who is missing something in her real life that makes her develop a bit of an obsession with a member of one of her child's favorite bands to the point where she buys concert tickets in order to go lust after the young man properly . . . .
Oh, wait . . . . .
4 Stars because even if I gave it less it would be 3.5 and I'd choose to round up for the simple fact that Rowling is savage as a mothereffer . . . .