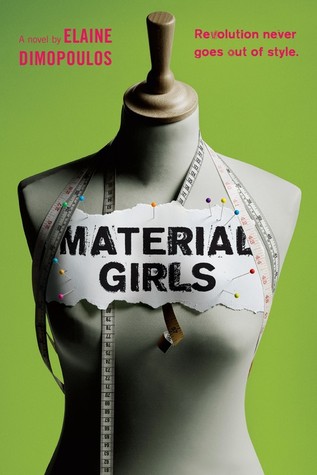 1 Star
Did you know .gifs annoy certain people on Goodreads? Yeah, you probably didn't. It's not like they complain
ALL THE FREAKIN' TIME ABOUT IT
or anything.
Sorry to the aforementioned folks, but when the tag line for a book is
"Are you in or are you out?"
it's pretty much just
begging
to have the poop giffed out of it with Project Runway quotes.
My initial reaction to
Material Girls
. . .
The blurb said this story was going to be
Project Runway
meets
Divergent
. . .
Although my love for the
Divergent
franchise turned south come book three, I really liked the first one and therefore was all over this ARC.
At minimum, it was guaranteed to feature some crazy ass clothing trend descriptions, right?
And what could possibly have more potential to be absolutely cutthroat and drama filled than a world filled with designers trying to stay ahead of the competition?
Wellllll, turns out the trendy clothing and new and improved lingo all the youngsters used was about the only thing I found entertaining. This was a book I thought I would really enjoy, but it ended up just kind of floundering around. The idea was there, that people need to stop worrying about material things and the latest trends and whatnot and instead focus on important issues like the environment and making a change in the world and the MC had a bit of a Norma Rae/William Wallace taking a stand kind of moment and I held out hope that my frown would eventually get turned upside down. However, it took what seemed like an eternity to finally get to that point and at the end of the book
nothing
really was changed and the lesson learned was that maybe change will happen but it takes time so you're not gonna be privy to seeing any of it in within the pages you just spent all day reading (which leaves me horrified that there will be a #2 to this shallow bit of nothing).
Now I realize that (on paper) I wouldn't be considered the target demographic for
Material Girls
and I was going to give it 2 Stars because of that fact. But really 2 Stars means "it was okay" and 1 Star means "I didn't like it." I didn't like it and if someone told me their young human was interested in reading this book I would probably react like . . .
If your kid is interested in reading about living in a world where everyone does what they are told and never divvies from the expected, have them read
The Giver
instead of this.
Oh, and if we do end up living in a world where people are "tapped" into choosing what I have to wear, can I please put in a request?
(Without the constant rain shower falling on my head, if possible – or at least provide me with a coordinating umbrella.)
ARC provided by NetGalley in exchange for an honest review.
Thank you, NetGalley!