4.5 Stars
I wouldn't say I
actively
avoided Kristan Higgans, but I will say as a person whose name is on A LOT of books on the paperback rack near the checkout lanes at the local Wal-Mart she wasn't someone who was high on my list of must read authors. (That's where the keep the James Pattersons - blech.) Then she wrote
a book about fat women
that got everyone's panties all up their butts and I decided that was something I needed to read . . . .
When offered an advanced copy of
Life and Other Inconveniences
I jumped all over it without even bothering to see what it was about first. Imagine my delight when I discovered it was one of my fave tropes – the "maybe you
can
go home again."
The story here starts with a phone call Emma receives from her estranged grandmother Genevieve informing her that Genevieve has brain cancer, is not long for this world, and would like Emma and her daughter to come spend her last summer with her. The two have not communicated for 17 years – right about the time Emma announced that she was pregnant unexpectedly and Genevieve kicked her out – but the dangling carrot of a potential windfall via Genevieve's estate being left to Emma's daughter in order to put her through college has this family reunion happening no matter what Emma's personal feelings may be.
This book hit ALL the right things for me. To begin with, I love dysfunctional families . . .
(They make me feel like mine might not be as awful as they appear to be.)
Second . . . .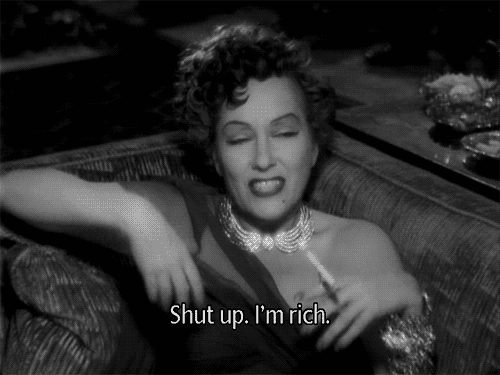 I myself am poor. I love reading about rich people. And this one??? Granny Genny created a
milkshake that brought all the boys to the yard
handbag empire that had all the gals going . . . .
In my head she was what Vera Bradley must be like. And before Vera Bradley (don't worry, I know that's not a real human – I'm only sorta stoopid) reads this and takes offense that Genevieve was kind of a bitch on wheels? I loved her – it's a compliment.
Not to mention . . . .
It's summatime summatime sum sum summatime. I literally read this from cover to cover at the pool last Friday on a mental health day away from the office. (Anyone know a good dermatologist??? I'm gonna need to deal with the skin cancer I probably now have.)
I wish I could post some quotes to prove that both Emma and Genevieve were amazing female leads, this had great humor and the romance was wonderfully schmoopy. However, the ones I want to use are like half a page rather than a word or two and I like receiving free shit so I shall cease and desist before I lose my privileges. Just trust me that if you are a Higgins fan, a Chick Lit fan in general, or just looking for a good time while making sure your children aren't drowning, this is a must read when it is released next week.
ARC provided by the publisher in exchange for an honest review.