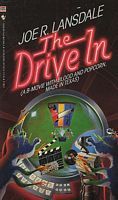 4 Stars
Let's all go to the movies, let's all go to the movies . . . .
"Think about it for a moment. Set your mind clear and see if you can imagine a drive-in so big it can hold four thousand automobiles. I mean, really think about it. Four thousand."
The Orbit is the biggest drive-in movie theater in Texas. It's also the destination for Jack and his buddies one Friday night. The fellas plan on chowing down on candy, cookies and "bloody" corn while watching such classics as these . . . .
during the all-night horrorfest that will play from dark 'til dawn. Things don't work out quite as planned, however, and they end up watching something more like this instead . . .
Which results in the drive-in being the
only
place left as far as the eye can see. Bonus? There's no escape. Hope those cats enjoy popcorn . . .
Much to my chagrin, this was my first Lansdale experience. Cut me some slack here – he's been on my TBR list since Jesus was a toddler. When I saw my buddy
Dan
reading this one I immediately bullied him into lending me a copy. (#worthit #bully4life) This had a little bit of everything that makes a great B-Movie - horror, gore, humor and a whole mess of ewwwwwww. This was also my first experience with bizarro fiction and it most definitely won't be my last. Won't be my last Lansdale either 'cause this mofo's writing had me hooked straight from the jump.
Stay tuned because Dan's re-read has a couple of other nutters gearing up to join this party . . . .