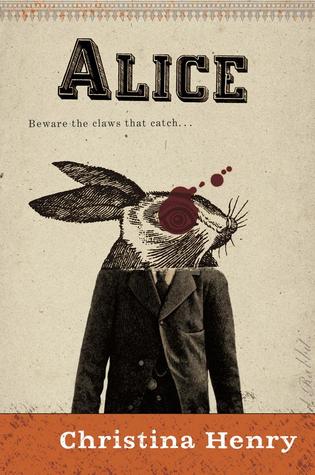 5 Stars
WARNING: MITCHELL WAS IN CHARGE OF GIFS TODAY SO THINGS MIGHT GO A LITTLE PEAR SHAPED
"Beware the jaws that bite, the claws that snatch . . ."
Confession time: I
hate
Alice in Wonderland
and
Through the Looking Glass
and
allllll of the movies that have been made from cartoon to Helena Bonham-Carter musey magic. It's just never been my thing (save your anger – I'll probably post something even more offensive before this review is even over). That being stated,
Alice
probably would have remained on my TBR indefinitely were it not for the awesomeness of my
Elf on the Shelf
wonderfully wicked book fairy this Christmas.
Once I started reading
Alice
I was all "I gotta feeling (wooooo hoooo) that tonight's gonna be a good night" . . . .
Ooooooh doggie. This ain't yo grandmomma's Lewis Carroll! Truly a fresh take that was inspired by the original. In this version, Alice is a resident in Old City's nuthouse. Her only companionship comes from Hatcher, someone she can talk to/catch glimpses of through a mouse hole near the floor and who didn't get his nickname over a hat . . . .
Alice didn't always live in Old City, though. Nooooooo, once upon a time Alice was a fair-haired beauty from the right side of the tracks – a/k/a New City. But Alice wanted to experience a little taste of the dark side of life. Boy did she *shudder*.
Fastforward back to the present where Alice and Hatcher have a chance to escape the hospital. However, their only chance of survival is to kill the Jaberwocky . . .
No, Mitchell, not the dance troupe. An even more terrifying creation.
In order to come face-to-face with the darkest of all evils, Alice and Hatcher must deal with the various local crime bosses, including Cheshire . . .
the caterpillar . . .
the Walrus . . .
(Alrighty then. Coo coo ca choo to you too, Mitchell.)
And last, but most certainly not least, the Rabbit . . .
Things are even more treacherous than they appear (and they already appear pretty crappy, right?) as Alice must make her way through the seedy underbelly of a city whose criminals earn their money via kidnapping young girls and forcing them into the sex trade.
This story was
D.A.R.K.
and oh so very stabby. Do not say I didn't warn you. If you're looking for a cuddly cartoon version of
Alice
, you should most definitely look elsewhere. On the other hand, if you're like me and are looking for something more like this . . .
I highly recommend Christina Henry's spin on things. All the Stars. Many thanks to my friend
Christopher
for putting this on the radar for me.
This selection was chosen as part of the Winter Reading Challenge my library puts on each year. Four more books and the limited edition coffee mug will be MIIIIIIIIIIIIIIIIIIIIIIIIIIIIIIIIIIIIIINE!