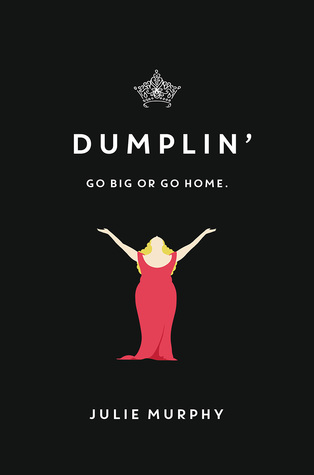 4 Stars
Most of my friends gave this one a "meh" rating, but I FREAKING LOOOOOOOOVED it . . .
They obviously all read it wrong (j/k). They also might have actually ponied up some dollars for it, but it was gifted to me by a
wee tipsy
witch on Festivus Eve.
Meet Willowdean Dickson . . .
"That's me. I'm fat. It's not a cuss word. It's not an insult. At least it's not when I say it. So I always figure why not get it out of the way?"
Remind you of anyone?????
Yep. Me too. It didn't take long, however, to realize that Willowdean's sassy persona was merely a front and that she was your average, insecure, teenaged girl. And I loved her. In a world of YA where the characters' voices sound older than a geezer like me it was refreshing to read someone so realistic.
So what was Willowdean's story about? Well, pull up a chair and let me
fangirl
tell you. Willowdean (or Dumplin' as her momma calls her) is a plus-sized 16 year old who lives waaaaaay down South in Texas with her momma, a former beauty queen and current organizer of her small town's annual local pageant . . .
When not attending school or hanging with her bestie Ellen, Will works part-time at the local Harpy's – which my brain
WOULD. NOT. STOP.
calling "Hardee's" and I've been craving a monster thickburger ever since . . .
(You're welcome, fellas)
Anywho. Needless to say, Willowdean's day-to-day is not one filled with thrills and chills. That is until her new co-worker "Private School Bo" takes an interest in her . . .
"My first kiss, which took place behind a Harpy's Burgers & Dogs and next to a dumpster full of day-old trash. Yes, it was perfect."
It was perfect until Will realizes that Bo will be switching schools and apparently their summer romance wasn't quite what she thought it was . . . .
(*insert sad face*)
And that's when Willowdean decides enough is enough and it's high time people get treated like people no matter what their size. How is she going to bridge the gap between fat and thin? Why, by entering the Miss Clover City beauty pageant, of course. But she can't do it on her own . . .
This book may not have been perfect, but I gobbled it right up anyway. My only real complaint? The romance. I realize that the heart wants what it wants (thank you, Selena Gomez), but does it always have to be
this
guy????
(*cough douche cough*)
Why can't it be
this
guy every once in awhile????
Realistically, if I were a teenager again I'd probably be shallow and go for the hot one too so I can't get too angry. Especially if he said stuff like this . . .
"Willowdean Opal Dickson, you are beautiful. Fuck anyone who's ever made you feel anything less."
Plus, when complete and total
A.W.E.S.O.M.E.
is also contained within the pages . . .
Nearly anything can be forgiven. It's time every girl realizes . . .
"There's a beauty queen in that cute, little fat girl."

"No," I say. "That cute little fat girl IS a beauty queen."
And then when you grow up? You can
REALLY
be brave . . .
https://vimeo.com/125347592
My friend
Anna
liked this one even more than I did and wrote up a great review. Go check it out.