3 Stars
This was the book that reconfirmed . . . . .
Despite me really diving back into the world of Chick Lit headfirst this year with no regrets,
Natalie Tan
proved that deep down I'm still a horrible curmudgeon. The only saving grace?????
(Did you hear that in Paulie D's voice? Thanks to the Jersey Shore Family Vacay reboot this past year my family gets to hear my Paulie impersonation on the regular like today on the first day of school "OH YEAH YO RIDE IS HEAAAAAAAAH YEAH!").
In the immortal words of Jim Gaffigan, I'm not a foodie I'm an eatie and boy oh boy did I want to eat all the thangs that Natalie whipped up in the kitchen. But I'm getting ahead of myself a bit. The story here revolves around Natalie Tan (duh) who left her mother and her San Francisco Chinatown neighborhood seven years ago and never looked back. Natalie returns believing she'll only be settling her recently deceased mother's estate, but it doesn't take long for her to realize that maybe you
can
go home again. There's just one thing she needs to do . . . .
"You must cook three recipes from the book to help three of your neighbors, as your laolao did in the past. Your success is tied to them, their businesses, and the community. You are one of them. If they fail, you will fail. If you save them, the restaurant will once again be the jewel of Chinatown, and vitality will return to the neighborhood."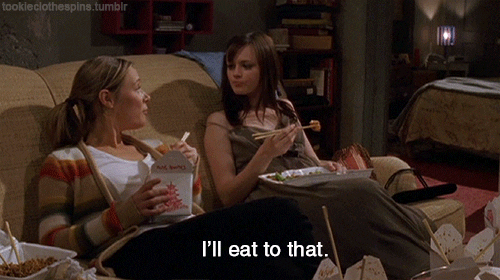 Oh the foooooooooooooooooooooooooooooooooooood. There's also a potential love interest and friendships and . . . . .
Basically, a sweet little feel good time. There just wasn't a whole lotta meat to it (and I guess I'm not that big of a fan of tofu ba-dum-ching). Also, the writing????
"If my regrets and wishes were fireflies, the brilliance of their dance would turn night into day."
It was a little extra.
I'm more than happy to admit to being a wrongreader on this one. I'm simply not nice enough to fully embrace something so pleasant. But still . . . . .
So it gets 3 Stars.