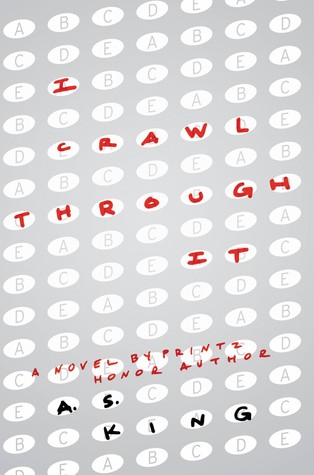 3 Stars
"We could have been so much more, but no one would let us fly."

What happens when you throw a girl who can split herself in two, another who can swallow herself inside out, a third whose hair grows a foot each time she tells a lie, and a boy who is building an invisible airplane together? Well, you get an A.S. King book. The synopsis for this one was a little . . . off putting (??? for lack of a better term) to me. However,
Everybody Sees the Ants
remains one of the most amazing Young Adult books I've ever read so after I read
I Crawl Through It
was going to be "boldly surreal" I was all . . .
and Mitchell was like . . .
I'm glad we took a chance. While this is most definitely not a book everyone will enjoy, A.S. King
always
brings a completely unique delivery to her stories and tackles some heavy issues that get the reader thinking. This time we learn that . . .
and that Hawkeye Pierce also says . . .
"Without love, what are we worth? Eighty-nine cents. Eighty-nine cents' worth of chemicals walking around lonely."
Confession time:
I received an advanced copy, so there is a chance that quotes may change before the final version is released. I hope this one remains . . .
"We're alive. We have words and shapes and ideas. We will throw them at you when you do not believe. We will throw our love and our hate and our failure and success. We'll split in two right in front of you and be our best and our worst. We'll lie and tell the truth. But we are alive."
ARC provided by NetGalley in exchange for an honest review.
Thank you, NetGalley!