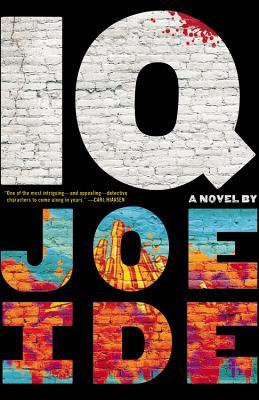 4.5 Stars


"You lucky you got skills, son, 'cause if you had to survive on your personality you'd be working at the morgue with dead people."
Remember
pretty much every single year
last year when it was #oscarssowhite? Books like this serve as a reminder that #literaturesowhite.
I.Q.
is definitely not a
new
tale, it's a twist on something old – Sherlock Holmes in the 'hood, if you will. However, that little spin is all it took to make everything old seem new again. Well, that and some serious storytelling ability by Joe Ide.
The story here is of "I.Q." . . .
"Isaiah Quintabe is unlicensed and undaground."
I.Q. has a bit of a gift . . .
"He couldn't help seeing what he saw. Things different or things not right or out of place or in place when they shouldn't be or not in sync with the words that came with them."
I.Q. has turned this ability into a livelihood. This story focuses on his most recent case . . . .
"The client is Black the Knife … He was in that Nelly, Ludacris, Mystikal, Busta Rhymes generation. He got the houses, the cars, clothing line, his own brand of tequila, his own cologne … Black the Knife's real name is Calvin Wright. Grew up in Inglewood over by Hollywood Park. Ran with the Damu Bloods before he got into the game. Anthony said somebody tried to cap him at his crib, almost got him too."
There's the summary in a nutshell. Someone wants Black the Knife dead and I.Q. will get paid $50K if he can figure out who. When you crack it open you get monster-sized pitbulls and crazed hired assassins and a posse of hangers-on and a jilted ex-wife – a whole slew of potential suspects. In addition, there's a sort of dual storyline (something that generally annoys me) that explains exactly
how
I.Q. came to be I.Q. It's like two amazing books in one. Bonus!
4.5 Stars because this was excellent. Rounded up to a full 5 for Dodson . . . .
Dodson might end up as my favorite character in 2018.
Book #5 in the library Winter Reading Challenge. THE MUG IS MINE!!!! (and I'll be picking it up after work).