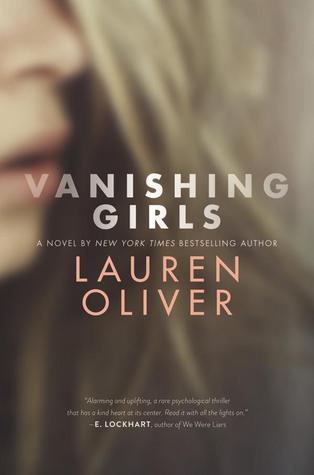 2 Stars
"The lying is the hardest part."

I should've paid attention to who gave this one kudos. E. Lockhart of
We Were Liars
fame? Yeah, that could have been a flashing neon sign that I would find
Vanishing Girls
to be . . .
Ha! Just kidding. My reaction was more like this . . .
According to the blurb
Vanishing Girls
was supposed to be the story of two teenaged sisters (one of which goes missing on her birthday), another missing young girl who may have been abducted, and the possibility that the two "vanishing girl" stories are somehow related. What it was instead? Sadly, a whole lotta nothing. The "disappearance" of sister #2 on the eve of her birthday doesn't even occur until well past the halfway part. (Note to all of you wiseasses who want to tell me how I read this wrong: I may be stupid, but I'm not a complete buffoon. I
know
there's more to the "disappearance" than what happens at the birthday dinner, but I am not a dickhole so I'm not going to spoil it for everyone else.)
To sum it up, once the twist was finally revealed, I was past the point of . . .
I'm giving
Vanishing Girls
2 Stars because it wasn't horrible enough to only get 1. I didn't like the use of the back-and-forth timey wimey this go 'round, but I do enjoy Oliver's writing . . .
"Sometimes people stop loving you. And that's the kind of darkness that never gets fixed, no matter how many moons rise again, filling the sky with a weak approximation of light."
I also appreciated the fact that although I found the twist to be more than a bit overused - I didn't guess it. I was also ever so grateful there was no instalove to crap up the story further.
I'm going to continue reading Lauren Oliver's stuff because I think she is
almost
ready to go there and give me the dark, angry, terrifying teenagers I like to read about. Almost . . .
"Jealousy is a strong feeling, a feeling that twists your stomach and gnaws your insides to shreds. This was more of a hollowness, like being really hungry for such a long time that you kind of get used to it."