2 Stars
After finishing this yesterday, my reaction was pretty much . . . .
The Woman Inside
is the latest in a long line of domestic thrillers. This one features a pill addicted wife and a philandering husband. I had a laundry list of issues with it.
To begin with, the blurb tells too much so I'm thankful I didn't read it before starting. I would have been bummed that the first big "twist" was pretty much spoiled on the back cover.
Next, the timehops. The wibbly-wobbly is used quite frequently in mysteries/thrillers and works okay for me about 50% of the time. However, in this book the time goes from waaaaaay before to immediately before to waaaaaay after to immediately after and everywhere in between with no indication exactly where you are until you read a few paragraphs and figure it out . . . .
Third, too many POVs. It's one thing to follow the husband and wife. It's another to follow them annnnnd a mistress annnnnnnnd a couple of police detectives . . . . .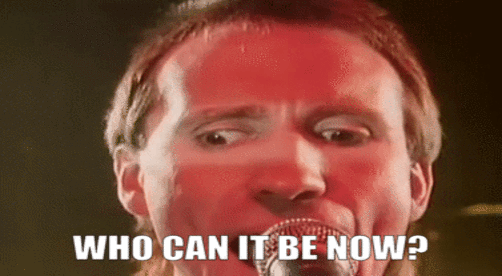 Fourth, now I'm a gal who likes an unreliable narrator as much, if not more, than the next guy. Buuuuuuuuuuut, there's a big difference between . . . .
And being unconscious so
no one
knows WTF is happening at all.
Then there's the twists and turns. All I can say is . . . .
YMMV, but as a reader who picks up A LOT of thrillers, attempting to heave everything but the kitchen sink at me doesn't mean diddly. Nothing here was a surprise and I saw it all coming a mile and a half away. There's also a big difference between reading a book that owns how much it is over-the-top and is simply bringing the reader along for a crazy ride and one who tries to take itself seriously while being OTT.
I could have saved myself a lot of time and .gif hunting if curiosity would have got the better of me earlier and I had simply Googled these authors. An article about them in EW disclosed . . . .
Both authors are thriller junkies; they volleyed chapters back and forth, each taking on a POV. "Each chapter is in direct response to the one before, and throwing potential twists at each other. That really was fun," Wands says. Adds Keenan: "The aim to shock and surprise with each chapter was very motivating. We got a little aggressive."
Basically this was a game of trying to one-up the other. It didn't work for me.
ARC provided by the publisher in exchange for an honest review.