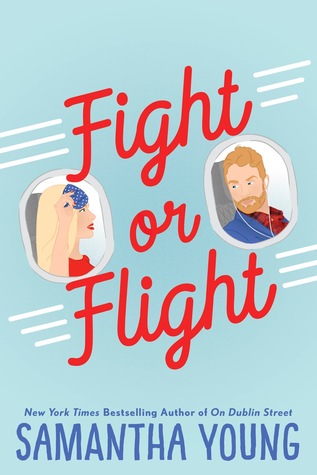 3 Stars
I've been on
va
staycay for a week, absolutely no one is in the office today and I'm eleventy-three reviews behind so my apologies for these little bits of nothing Imma barf out.
Fight Or Flight
is the story of Ava and Caleb's not-so-meet-cute while each is attempting to grab the last upgrade on their flight – followed by the entire flight being cancelled – followed by . . . .
"I'm not going to sit here and lie that last night wasn't great sex – okay, fantastic sex. But I still don't like you."
It 100% should be read like this . . . .
As this one-night-stand possibly becomes more.
Warning: You may get super irritated by how buttholey Caleb is, but I didn't because he had reasons – THAT WERE ACTUALLY EXPLAINED BEFORE I WANTED TO KILL MYSELF MIRACLE OF ALL MIRACLES!!! I did get super irritated by the terrible take on a Scottish accent. Still a fun little time killer that I wouldn't ever discourage anyone from reading. Also, I'm really digging Berkley's cartooney romance covers that are all a little similar to each other. It's like you already know if you might dig it just by looking at the outside even though the authors/stories aren't alike at all.
ARC provided by Berkley Pub in exchange for an honest review.