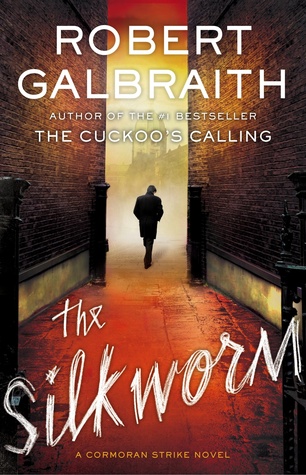 4 Stars
I read this book MONTHS ago and never got around to writing a review . . .
Thanks for the reminder. Now that all of my friends are reading/have already read Book #3 I figured it was time to get off my butt.
The Silkworm
is the follow up to "Robert Galbraith's" bestseller
The Cuckoo's Calling
. The difference this time around is everyone knows the author is really J.K. Rowling. The leading male, Cormoran Strike, is a little different too. Rather than getting by on a wish and a prayer that he'll be able to pay the bills on time, Strike has more clients than he can handle and . . .
When novelist Owen Quine's wife contacts Strike, he thinks there isn't much to the mystery but decides to take the case purely for curiosity's sake. Once Strike starts digging in to the potential whereabouts of the missing author he discovers an unpublished "fictional" tell-all that dishes so much even Kitty Kelley would cringe has been written and that the author is most definitely not missing at all . . . .
We also get a bit of a sidestory with Robin, who although hired as a receptionist is ready to start proving she's capable of so much more and is getting just a
wee bit
ticked at Strike for underutilizing her . . . .
Lucky for Robin she's woman enough to speak up for herself rather than simply filling out one of Shelby's trademarked "Butthurt Forms" and that this mystery becomes big enough her help is needed.
And that's that. I can't tell you if you'll like this book or not. Just because you loved (or hated) Harry Potter doesn't mean you'll love (or hate) this because they are sooooooo not the same type of book. And just because you loooooooove mysteries doesn't necessarily mean you'll love this one because it doesn't follow the formula of most bestselling mystery books today. There aren't a lot of twists in the road, or shock and awe, and there are LOTS of pages. But I found the pages to be filled with nearly 100% good stuff. The only thing I'm not on board with is the potential developing relationship between Strike and Robin. Dear J.K. Rowling . . .
Please don't. I'm begging. You're better than that.
Don't want to take my word on this one? I don't blame you. Go check out
Ashley the Hufflepuff Kitten
or
Mairéad (is exploring a floating city)
or
Steve
or
Stephanie
or
Becky
or
Casey
or
Stepheny's
reviews (or thousands of others) instead . . .
I'd like to throw in a dissenting opinion, but seriously were NONE from my friends.