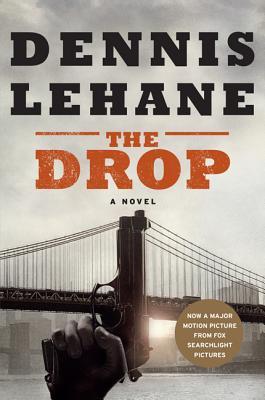 3.5 Stars
"What is WRONG with you?"

"Pretty much everything. I'm severely fucked in the ol' squash."
Welcome to round two of books that Kelly didn't even know were movies, where I once again answer my husband's questions about why I have to read
allllllllll
the books with . . .
Not that this was a stupid movie. In fact, it was probably pretty damn good, so let's move on and get to my "review." Let's begin with "what is a drop?" Well . . .
"The theory is that every night, all the money [from "illicit gains"] is collected and 'dropped' in a preselected bar somewhere in the city. The bar takes all the money from all the illegal shit going on in the city that night and sits on it until the morning. And then some Russian in a black leather trench coat and too much aftershave shows up, takes the money, and runs it back across the city to the syndicate."
It just is what it is and Bob has spent his entire life working for his Cousin Marv in one of said "drop bars" . . .
"A successful man could hide his past, but an unsuccessful man spent the rest of his life trying not to drown in his."
This is Bob's story about how his life changed after he had something worth living for . . .
Of course, since it's Dennis Lehane it's not a tale of rainbows and unicorn farts. Like every Lehane story I've read to date nothing can be taken for face value. You meet the cast of characters, determine who is bad and who is good and what is right and what is wrong – and then???? Then you realize . . .
and stuff like this . . .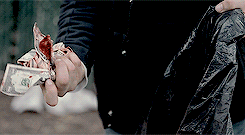 and this . . .
starts to happen.
Which leads to a good news/bad news situation. The good news is,
The Drop
was a novelization of the movie so nothing was missing. The bad news is,
The Drop
was a novelization of the movie so nothing was missing. I'm not a book-to-film purist (in fact, this makes me 2 for 2 of not even knowing for sure if a book I've been reading really
was
a movie) but in this case I was left wanting more and
that
is how the 3.5 Star rating comes into play. I have a buddy read of
Mystic River
coming up around the bend, so until then I'll just have to make sure I'm living by "The List" . . .
"1. Never trust a convict.
2. No one loves you.
3. Shoot first.
4. Brush three times a day.
5. They'd do it to you.
6. Get fucking paid.
7. Work fast.
8. Always appear reasonable.
9. Get a dog."
I'll just go ahead and leave these Tom Hardy/puppy gifs here for the rest of you . . .
You're welcome.