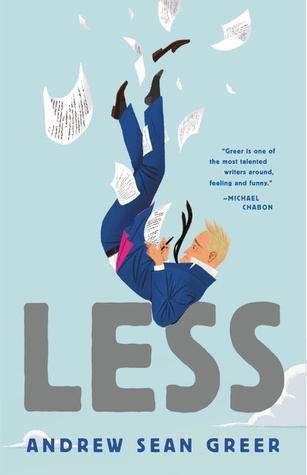 3 Stars
"Just for the record: happiness is not bullshit."
I picked up
Less
for one reason and one reason alone . . . . .
"You won?"

"It's not Pew-lit-sir. It's Pull-it-sir. Holy fuck, Arthur, I won."
Occasionally I like to prove that I don't live on porn and murder alone and venture out. The world of award winners has generally worked out pretty well for me and, although I'm not a zealot about it, I try to squeeze in a Pulitzer, Man Booker or Edgar Award winner a couple times a year.
The story here is about Arthur Less. Quickly approaching 50 with one former partner dying and another getting married, Arthur feels he has no choice but to do one thing . . . .
Except the staying in more part. No, on the contrary Arthur will be going out more. A lot more. And all over the world. From Paris to Berlin to Morocco, Arthur will become quite the globetrotter in order to avoid facing the facts that he's not getting any younger . . .
or
more successful . . .
or
better at relationships.
Less
has the hardware that proves unarguably that I read it wrong. I don't even have a valid reason, either, because the "off the top of my head" excuse why I didn't fall over myself loving this one is that I didn't really relate to Arthur. Obviously I can't truly relate to all of the meth manufacturers, moonshine runners, cannibals and serial killers who manage to make their way into my cold, dead heart either, so like I said – invalid argument. I guess my main problem with poor Arthur was . . . .
"You talk like a child. You look and act very young." . . . "Maybe you never grew up." Maybe he never did.
I guess there's no place in my life for middle-aged manchildren. It still gets 3 Stars, though, because even I couldn't eff up and read it wronger than that ; )