5 Stars
I ended up with this because I
reaaallllly
wanted an ARC of
The Ghostwriter
and even though I followed the author's instructions in order to obtain one only to discover I had NOT received an advanced book, but HAVE been spammed to holy hell and back about helping promote the thing which I didn't even read yet I still wanted something by this author. She's just such a mixed bag of tricks. I've had 4 Star success as well as 2 Star failure with her stuff, but I keep wanting to go back for more.
Sex, Love, Repeat
is a BIIIIIIIIIG hit or miss with my friend list. I will say, it's a bit thin when it comes to plot, but boy oh boy did it get the job done – if ya know what I mean *wink* . . . .
If love triangles ain't yo thang stay far far away, because you'll be knee deep in one immediately since Madison spends a few days a week with surfer dude Paul and the other few hobnobbing with the wealthy at Stewart's . . . . .
"I get that you don't understand. That you wonder how someone could possibly be aroused, turned on by the thought of something so forbidden. But often, it is the forbidden that is the hottest, and the depraved that is the most arousing."
Boy, she wasn't kidding . . . .
Please be warned that you kinda just have to go with the idea that these characters love each other since there's little to no talking to interrupt all the banging. Also note that, in the immortal words of Spike Lee, "she's gotta have it." We're talking a straight-up nympho . . . .
(Do you even KNOW how long I've been waiting to use that image???? Eternity +1)
I don't really care what anyone else thought of this one. I wanted it to be hot and . . . . .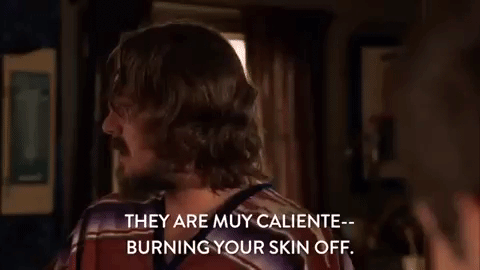 5 Stars. Any time I can picture these two making the dirty . . . .
I can pretty much guarantee that "tonight's gonna be a good night – tonight's gonna be a good good night!"