4 Stars
My initial reaction when I discovered there was a possibility of me scoring a freebie all about queso . . . .
You see, queso and I have a very tumultuous love/hate type of relationship. I love it, but it seems to pretty much hate me . . . .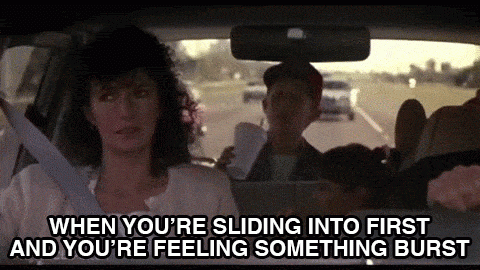 I was also a little terrified that at "50+" recipes, "everyone's favorite cheese dip" would end up being morphed into . . . .
Which it did with this "quirky queso" option . . . .
Cottage cheese as the base? Why didn't I ever think of that?!?!?! My family
HATES
cottage cheese so that equals me getting to eat the entire bowl all by myself.
I was also afraid this was going to be super hoity-toity. And while it does teach you things like roasting your own poblanos rather than calling every stray cat in the neighborhood to your kitchen with the sound of the can opener, the recipes were really pretty simple (and you could cheat and open a can rather than risking having to urinate all over yourself should you be infected with "jalepeno hands" – Google it, it's real). It also surprised me by including recipes containing 'Murica's most favorite processed cheese food . . . .
#blech
But the other options???? Just look at some of them . . . .
I mean just looking at that image makes my sphincter pucker up, but I'm still gonna put it in my mouth anyway. Seriously . . . .
And THESE?!?!?!?!
GET. IN. MY. BELLY.
Do you have super active bottomless pit teenage male humans in your home? If so, you're in my #thoughtsandprayers because they are horrible. If you share in my suffering you are well aware that they eat all the time and are (generally) incapable of doing things for themselves without telling you that YOU'RE THE WORST! so you keep a deep freezer stocked with unhealthy selections from Costco available at all times featuring things like giant soft pretzels. But look at this "Hill Country Sausage Queso" . . . .
I'm investing in Depends so I can eat this for lunch while I'm PMSing.
This little book even included dessert . . . .
Have you ever had jalapeno jelly? I'm totally kicking my own ass for not ever thinking of putting it on ice cream.
Queso is pretty much the perfect food. Really, its only fault is its dip status so you can't use the excuse of . . . .
Many thanks to the publisher for the reviewer copy. The World Series/Tailgating/Superbowl Sunday should be a lot more interesting this year
. . . .