2 Stars
A REVIEW VIA GIFFERY
(even more so than usual)
:
As soon as I saw
"It's the Salem Witch Trials meets Mean Girls"
I was sold. I was also 100% positive I would love this. Not to brag or anything, but . . . .
With descendants of the original Salem witches as the girls who rule the school I immediately pictured . . . .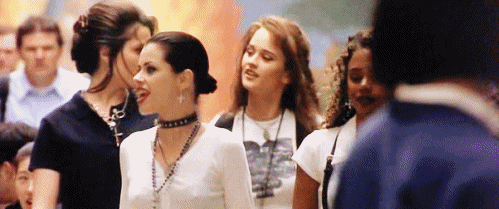 And was so excited I almost peed my pants . . . .
Bonus was the bitch squad were all super fab and also included hot boys so my brain went all . . . .
DON'T YOU JUDGE ME!
I was sure this would be the reading equivalent of one of the numerous programs on the CW to which I am addicted. (See above regarding not judging me.)
Where was I again? Oh yeah, then I started reading and, well . . . .
We're talking straight up . . . .
It should NOT take me four days to read a book. ESPECIALLY not a 350 page YA book. But when the pacing is slower than me sucking a turtle, the person doing all of the superbadawful the most obvious cliché in all of obvious clichés and the love triangle (because duh OF COURSE there was a love triangle) featured a dead dude . . .
Yeah. Dead. Anyway, all of the above = a not-so-happy Kelly and Mitchell on this All Stabby's Day . . . . .