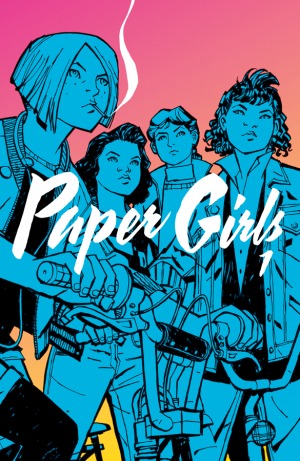 1 Star


Boy, this one had
A LOT
of stuff going on. Buckle up, kids, and I'll
take you on a crazy acid trip
explain things . . . sort of.
Our story begins in the wee hours of Halloween when noob Erin is being accosted by local hooligan Freddie Krueger while attempting to complete her paper route. Luckily for Erin, the other paper girls have already hit the streets and appear just in time to save the day. Not so lucky is the first impression presented . . .
Uh. Yeah.
So anyfarts, the girls make their escape and immediately run into another while attempting to divide and conquer the paper delivery. While attempting to get payback on the thugs responsible, they instead find something they
really
weren't expecting . . .
Once again they narrowly get away and finally come face to face with the potential bad guys who look an awful lot like this fella when their masks are removed . . .
We then discover the key to solving the entire WTFery that has been going on might be in a tiny little device with the logo of a bitten apple on it . . .
But wait, that's not all. No, there are
DINOSAURS
added to the mix next. Y'all know there's only room in my heart for one dinosaur story . . .
(Thank you to EVERYONE who has sent me this gif. I finally had a chance to use it.)
There's also aliens who speak some form of hipsterish Shakespearean throwback/fastforward language that had me all . . .
As well as another dude who bore a striking resemblance to . . .
Not to mention the bizarre dream sequences starring folks like The Gipper . . .
Since I'm stupid it took me awhile to figure out this was a Throwback Thursday selection. I thought Mac was just a homophobic asshole with her remarks (and she was), but supposedly it was the language of the time (and sadly it was) so it was used in that one frame. Eventually with various Dukakis references and a shout-out to one of my all-time faves . . .
I was able to put two and two together. It still didn't make this any less of a hot mess, however. I debated giving this 2 Stars but this is the dude who wrote
Saga
FFS. There's no excuse for this one.
ARC provided by NetGalley in exchange for an honest review.
Thank you, NetGalley!