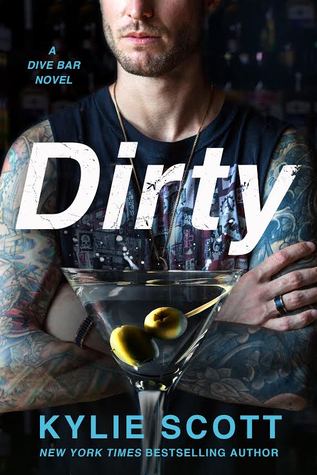 3.5 Stars
Dirty
ended up on my TBR for reasons that I could not even remember. I figured it was like every other book and a Goodreader had just read it, but
Future Jess
was only "currently reading" it and had not yet posted a review/update that would have made me request this from the porny librarian. Turns out it was a baseball mom! Not exactly sure how she figured out I was a filthy smut monger, but I'm so glad she did.
Lydia was all ready for her happily ever after, but on her wedding day she received a text containing a video of her soon-to-be husband getting his happy ending from his best man . . . .
Like any rational woman, Lydia hightailed her ass out of there pronto, hopped a fence and broke in to the nearest house in order to escape the reality of her situation. Lydia's boo-hooing in the house's bathtub is soon interrupted, however, when the resident, Vaughan, turns on the shower. (Pretty good meet/cute, right? Right – it was.) Vaughan is just passing through long enough to sell his deceased parents' house before he goes back to his life as a hopeful rock star and Lydia is pretty much up poop creek with no paddle, so after getting the whole story Vaughan offers for Lydia to stay with him for a few days. After about 12 seconds Lydia's ladybits start beeping for a hot beef injection and eventually we get down to business and Kelly was like . . .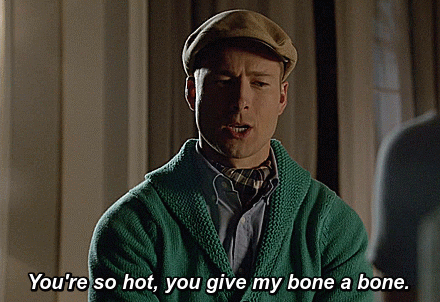 The smexies in this one delivered. Just ask the husband. The only thing that I didn't like????
Unless you're a sparkly vampire, keep your effing teeth off me sucka!
Anywho, we get some shibibbidy dibbidy mixed with a bit of angst for the duration and then the ending which was . . .
But pretty much par for the course when it comes to a HEA romance so I can't really even bitch about it.
Aside from the instalovey and the make-up/break-up umpteen times within a week bullshit, this one was pretty decent. I'm used to reading female main characters with red hair (you know, because it's soooooo very common in the real world for errrrryone to be a redhead), so I appreciated that things were mixed up a bit this time around . . .
It was hard not to get a chuckle or two from Vaughan's
subtle
approach too . . .
"No straight guy could stay away from that rack," he said quietly. "Just saying."

"Not everyone's a tit man."

"Well, they should be," he scoffed. "Breast is best."
And Lydia and Vaughan together (when they weren't being a couple of drama llamas) were pretty excellent . . .
"Working on a new song?" I asked.

"Yes," he said, sitting down across the table from me. "It's called 'You Say Funny Shit When You're Drunk.'"

"I like it. Sounds like a winner."

"Yeah. It's going to be by the Devil Dick and Demon Tongue Band." He took off his sunglasses, placed them on the table. "What do you think?"

"That's the name of the new band? Sweet."

"Classy, right?"

"Totally."
If it's 100 degrees with 100% humidity where you are but you are still interested in turning up the heat, this might the book for you. Unfortunately the library doesn't have the second in this series, but I would definitely continue and will keep my fingers crossed for the book about Joe the . . .
"lumbersexual"