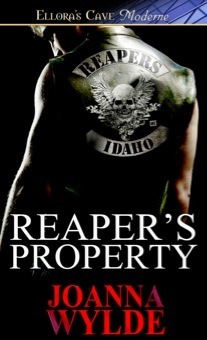 2.5 Stars
Look at me I'm becoming a real porno queen . . .
Whoops. They ain't kiddin' around when they say slippery when wet! When
Casey
recommended this book to me I requested it from the library
immediately
for one reason and one reason only . . .
"So why are you called Horse?"

"'Cause I'm hung like one."
BWAHAHAHAHAHA! Since I have the mentality of a 12 year old I just laughed and laughed forever at that.
This one isn't for the weak, so if you are of the butthurt generation don't say I didn't warn you. The premise behind
Reaper's Property
is that Marie's brother is a douchebag stoner idiot/'puter genius who was hired to do some creative maneuvering of the motorcycle club's funds and decided to skim off the top. D-bag brother finds himself $50,000 in the hole and zero method of paying back the debt. Enter Marie. Horse had his eye set on her becoming his "old lady," but since she didn't understand club lingo she told him to hit the bricks. Now that her brother's life is on the line Marie has the chance to save him – by offering herself up as collateral. This is the part where you have to let reality go if you plan on enjoying the ride . . .
"Glad you like it."

"What?" I asked.

"My body," he replied, smirking. It's the only one you get to look at or fuck, so it's good the package works for you."
Reaper's Property
wasn't really my ideal cuppa for the simple fact that WHY THE EFF DIDN'T HORSE JUST TELL HER THE WHOLE KIDNAP THING WAS A RUSE BECAUSE HE KINDA LURRRRRRVED HER AND MOST DEFINITELY WANTED TO MAKE ALL THE SEX WITH HER?!?!?!?!?! Stupid plot is stupid. However, if you can let your mind be free to the idea of some dumbshit sex robot type of woman who suffers the body betrayal B.S. anytime dude breathes near her, you're probably in for a good time and will eventually be okay with the stupid ass plot too . . .
"I don't want to be your enemy," he said firmly. "I want to be your man. You make me feel crazy things, Marie, and I don't want to lose you."
Or maybe that's just me and I've been hypnotized by all of these longhaired motorbikers *shrug* . . . .
Whatever. The sex was hawt. Don't agree?