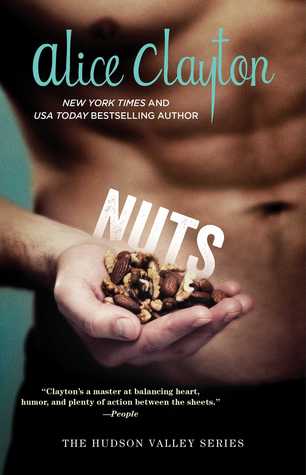 2.5 Stars
I really enjoyed the two Alice Clayton books I've read and I was
positive
this would be a guaranteed win for me as well because it had something the others did not . . .
Oh how I do love the beard trend. This had a fairly adorable premise to boot. Roxie left her small hometown in Hudson Valley as soon as was humanly possible in order to attend culinary school on the West coast. Since graduating, she has been trying to make a life for herself as a personal chef in Hollywood. After getting blacklisted by a client over butter (yep, butter), Roxie agrees to return home and run her family's diner while her mother participates in a once-in-a-lifetime adventure (The Amazing Race). While there Roxie meets the local farmer and goes a little nuts for his . . . nuts ; )
Nuts
was seriously "meh" for me which sucked because I was super stoked to read it and had been on the wait list FOR.EV.ER. (and even suffered a bit of public humiliation when the damn thing failed to check out and I had the librarian hollering "NUTS – NUTS DIDN'T CHECK OUT PROPERLY!!!"). So here were the problems I had:
# 1. The tired trope. All romance novels have them, but
Nuts
had one that didn't work well for me – the Summer Lovin' . . . .
The idea is a no strings attached fling that will only last for three months because one of the MCs will be moving away. Get real. A dime-a-dozen unemployed chef who has been blackballed by her clients has NOTHING to return to. Errrrybody knew she wasn't going anywhere.
#2. The "he's such a hot ticket but he never dates anyone." There's only one reason supa hot hipster beard would NOT be banging all sorts of strange . . .
(Spoiler Alert: This is a romance novel so dude is hung like Seabiscuit.)
#3. Nicknames. I hate them and this was one of the worst! "Sugar Snap???????"
#4. The soundtrack. I like when a book provides me with background music – but if the background music selected is such that it takes me on the wayback machine to early U2 it better be The Joshua Tree and not flippin' Achtung Baby . . .
#5. The food. Roxie is returning home to a greasy spoon. This is the ONE CHANCE I have to totally pork out using my imagination. Like Jim Gaffigan, I am an "eatie" NOT a foodie. I don't want to hear about new hipster methods to make the perfect beet salad. I want Bs & Gs and chicken fried steak and my waitress to be hollering . . .
#6. Which leads us to my final complaint. The sex. Normally I fail at romance novels because the sex makes me wanna vomit all over my shoes. Well, I wanted to vomit all over my shoes this time around too, but it was due to the LACK of sex. And so much kissing. Ugh. Are we 12? No one makes out like these people. All they ever talked about was kissing and swollen lips and licking her neck and FFS!!!!!
I mean seriously. Even when they finally did the deed it was (I can't believe I'm even about to write this) too vanilla for me. I appreciated the lack of "C" words (*shudder*), but the approach . . .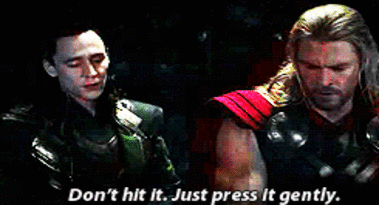 NO, MOTHERF*CKER – HIT IT ALREADY AND HIT IT GOOD!
My friend
Eilonwy
enjoyed this one more than I did, while still having some honest complaints. As for me, I think I need to leave this series outside of 10-foot pole range and finish up the
Wallbanger
books instead.