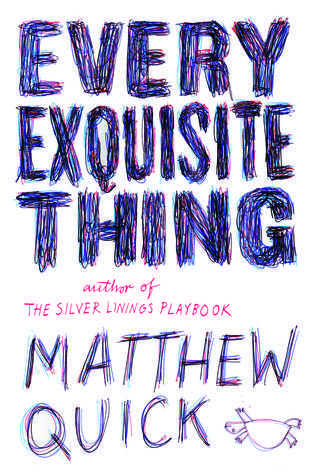 3 Stars
"Behind every exquisite thing that existed, there was something tragic."
What did I think about this???? Hmmmmmmm . . . . .
Honestly I'm still not quite sure and since none of my friends have read it yet I don't have anyone confirming I (once again) read something wrong so I'm going to leave myself planted firmly in the middle of the road.
Every Exquisite Thing
is the story of Nanette, an average teen who has always done the right thing and followed the path chosen for her by her parents – that is until she is given a copy of
The Bubblegum Reaper
. . .
After reading (and re-reading and re-reading) the cult classic, Nanette is full of questions about the book and life in general which leads her to seek out the paperback writer . . .
(Get it? I'm hilarious.)
The only problem? The author refuses to discuss his work. However, he is more than willing to befriend young Nanette – NOT IN THE GROSS WAY YOU'RE THINKING . . . .
"If you are one of those pessimistic people who think that an old man can't befriend a teenage girl without some sort of perverted, deviant ulterior motive, let me end of the witch hunt right here and now."
As their friendship develops, so does Nanette's view of the world, of love and of life . . .
"Maybe it isn't the motivating factors that matter so much as simply participating – thrusting your best true, authentic self into the universe with wild abandon."
Nanette and Alex are what Holden Caulfield could have been if he weren't such an asshole. Wait – scratch that. Nanette and Alex are what Holden Caulfield could have been if he weren't
a total
asshole. I didn't loooooooove this story like I did
Forgive Me, Leonard Peacock
, but it wasn't nearly as insufferable as
The Catcher in the Rye
. Bottom line is Matthew Quick is an author who writes solid characters who are realistic and relatable and who your heart will break for. And when he pairs it with a rebel anthem soundtrack for women everywhere?????
Well, that just makes me say
"Whoa-whoa-whoa-whoa-whoa-whoa-whoa-whoa-oahhhhhhhhhh
!"
Also appreciated was the douchebag song choice . . .
"The music – it sounds like a British guy rapping over acoustic guitar."
Snort. Sorry, lil' Ed Sheeran. I still like your douchey gingery song stylings.
Old lady confession time – the only time Matthew Quick
really
lost me here was with Alex's playlist of Lightspeed Champion . . .
But to each his own.
ARC provided by NetGalley in exchange for an honest review.
Thank you, NetGalley!