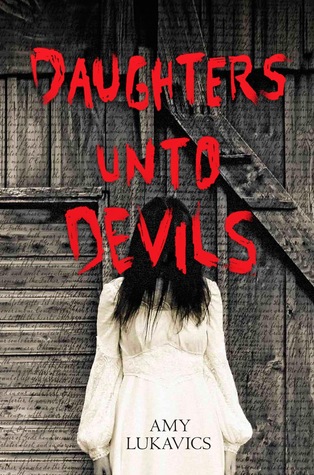 3.5 Stars
"I'm starting to believe that hell is everywhere."
This was a bit of a pleasant surprise.
Amanda Verner's family has always lived in mountain territory, but after a
rough
winter the previous year and the farmers all warning to prepare for an even worse one her father decides the family should relocate to the prairie. It is rumored that woods surround the area which will provide work for Pa in the form of furniture making and there supposed to be plenty of abandoned cabins of former settlers who have moved on. While Amanda is not
thrilled
with the idea of moving, her dreams of running away with the boy of her dreams didn't pan out as planned and she's been left with a little souvenier to take with her . . . .
The family is thrilled to find out everything they have heard is true, and after passing up one cabin that was way too small, discover a
huge
place to create their homestead. However, upon entering their new abode the Verners are struck with a horrible smell and the realization that
something
happened . . .
But Pa is still all like . . .
And swears he can get the place back in tip-top shape in no time. He also is
positive
the uhhhhhhh
mess
left by the previous inhabitants must have been due to them butchering an ox inside the joint. Because yeah, that sounds totally legit.
Anyway, then some stuff and things happens . . . .
and Amanda learns a real tough lesson about . . . .
Daughters Unto Devils
gets a bit of a bump in the rating department from me for daring to take risks. The "horror" niche in YA has gone from nearly nonexistent to laughable in its absurdity. This was pretty creepy and it definitely kept me turning pages. I can only imagine how this could make youngsters poop their drawers.
The only thing keeping my half star rounded down rather than up was all the talk of how Amanda had "prayed for this, oh my God, I prayed . . . ." to the point where I was making notes like "STFU YOU BROKEN RECORD!!!!" and wanted to . . . .
Other than that, though, this was a pretty decent read and
definitely
a quick one. Just watch out the next time you hear some fiddlin' . . . .