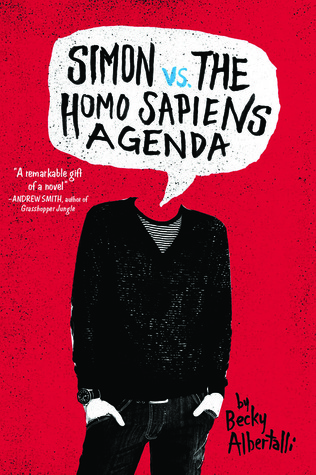 5 Stars
Oh my God, what is happening to me?????
Who am I? Mitchell isn't gonna like this : (
My apologies. This is just going to be a big hot mess.
Simon vs. the Homo Sapiens Agenda
is one of the sweetest little love stories I've ever had the pleasure to read. I don't even know where to begin. Maybe this is one of those times where the book needs to do most of the talking.
Let's start with our MC . . .
"In reality, I'm not the leading guy. Maybe I'm the best friend."
I'm not so sure about that. Simon was a delight to get to know. A boy who could
"give precisely zero shits about video games,"
who won't eat red frosting because it tastes
"too red,"
and washes his own laundry because
"there are some socks that shouldn't be washed by your mom,"
who has mix tapes named things like
"The Great Depression,"
and puts the contact info for the guy who is blackmailing him in his phone as
"Monkey's Asshole"
. He was a completely adorkable, Draco-loving, bedhead having, teenage dream boy . . .
who hoped to one day actually meet the boy he's been falling for anonymously via e-mail . . .
and was soooooooooo loveable he made it possible for me to forgive him for having a dog named Bieber. Hear that, Erica????
BIEBER
. . . .
He was a character who got called out for being an asshole when he was being an asshole, but surrounded himself with some amazing people who just
got it
. . .
"It is definitely annoying that straight (and white, for that matter) is the default, and the only people who have to think about their identity are the ones who don't fit that mold."
He made me see that
"people really are like houses with vast rooms and tiny windows,"
And made me laugh. SO. HARD.
"What are you thinking about?"
"Your mom."
"NOOOOOOOOOOOOOOOOOOOOO!"
He reminded me that when all else fails, sometimes you just need to "Try a Little Tenderness" . . .
"And I can't stop smiling. I mean, there are times it's actually more work not to smile."
If you want to read something that just makes you feel good,
Simon
might be the choice for you. I'm still smiling and I'm giving it all the stars. . .
Why you gotta deny me the ARC, NetGalley?
I told you I 5 Star stuff sometimes ; )