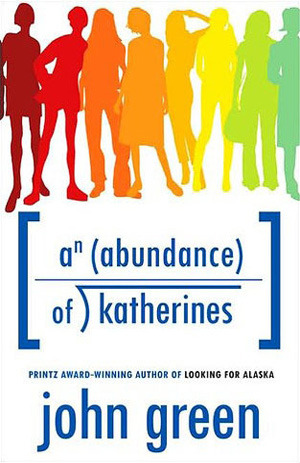 5 Stars
I may be one thousand years old, but I still love John Green books.
I read
An Abundance of Katherines
before I even knew who John Green was. Remember - I'm 1,000, so cut me some slack people! Over the past several years it has come to my attention that almost everyone else considers this to be the lesser of all of the Green works, which had me questioning my mental state (or whether or not I was intoxicated) the first time I read this book.
Okay, so I'll grant you the premise is
kinda
snooze-a-rific. I mean, a former child prodigy who has been dumped by 19 chicks named Katherine who wants to develop something like this . . .
(*hooooooark* Ugh – just looking at that math gives me dry heaves)
in order to be able to predict who will be the dumper (or dumpee) in any relationship and when said relationship will end is not the most exciting story to be told.
And maybe Colin was a sitpinkling anagramming weirdo who moped around feeling miserable about getting dumped by the umpteenth Katherine in his life, but without him I would have never had a chance to meet Hassan. Oh Hassan! I'm pretty sure he'll go down in history as one of my favorite supporting pals. He completely stole the show. If you've not yet read
Katherines
, think of Hassan as younger, less dickholey, and more Muslim version of Trent from
Swingers
. . .
Hassan is a riot, he can woo the ladies without even trying, and he refers to himself occasionally as "Daddy." He's the only person who was able to stop Colin from "lying facedown on the carpet" . . .
and was the driving force in this story behind my most favorite of all plotlines . . .
Man I love road trips. If I were to be 100% honest,
Katherines
might not be deserving of all 5 Stars this second time around. . . but I'm not changing the rating. I love this book unapologetically and it's still my favorite John Green – even if I'm the only one who feels that way. If nothing else, this book gave the world the following quote:
"Books are the ultimate Dumpees: put them down and they'll wait for you forever; pay attention to them and they always love you back."
And that may be good enough for a ½ Star bump on its own.
Maybe Colin wasn't a "relatable teenager" (whatever the F that means), but at least he admitted that Holden Caulfield was a self-absorbed loser. My generation grew up with a different John who wrote characters like these . . .
John Green is this generation's John Hughes and
everyone
should taste a bit of his Kool-Aid.
You know the old saying: "once you go Green, you never go back" . . . or something like that.
Oh and one more thing. I am
freaking STARVING
for a Monster Thickburger after reading this book. F you, Hassan!
(One billion calories and I could die of an insta-heart attack upon eating it? WORTH IT!)