3 Stars
"Prepare to have your world rocked." Jane could have sworn she heard him whisper under his breath. "Too late."
Before I even begin let me tell you all that I am a hater of most things Disney and that goes triple for any and all of the princesses. I should have never even requested this book. However, it was by Rachel Van Dyken and I have to be honest . . . .
I could give a fat rat turd what she's writing about, I'm going to do my best to get my greedy little hands all over it. Buuuuuuut, like I said, modern retellings of "princess" stories and me = no Gouda. Mainly because I want my Cinderella to be a little something like this . . . .
Instead I got Jane. Poor Jane . . . .
Yes, Jane. Yes you are. Sadly I could barely tolerate the leading lady this go 'round. My brain was also trying to punk me and even though leading male Brock was
repeatedly
described as being auburn-haired, in my head he remained Jon Hamm . . . which would probably be great for most of you because y'all can picture Don Draper . . . .
But apparently I have some kind of twisted parasite living in my skull so I only envisioned this . . . .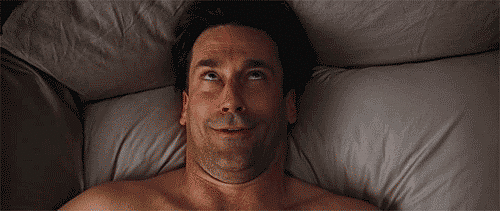 Obviously by the 3 Star rating (which means
I LIKED IT FINE – I JUST DIDN'T LOOOOOOVE IT SO BACK OFF!
) some things worked for me. Although the meet/cute was a bit OTT, Brock did deliver a whopper of a one liner . . . .
"A woman like you doesn't belong in the shadows."
Which made me have a Johnny Castle flashback . . .
And then my splooshzone got real moist.
There was also my favorite scene of any scene ever – THE FIRST TIME WAX . . . .
Every rom/com should be required to have a waxing scene because they always make me lolz.
There was also a ranch owning Grandpa who, although not prominently featured, made me think of
The Ranch
and Beau Bennett (if you don't get that reference maybe we shouldn't be friends) . . . .
I have high hopes for ol' Grandpa in the next books. Oh, and speaking of the rest of the series, THIS is why I read everything Rachel Van Dyken writes. This one might have just been okay for me, but the upcoming stories featuring twins Bentley and Brant????????? Yes please . . . .
No rush, though. Take your time. I'll just be over here . . .
somewhere
waiting for Book 2 . . . .
ARC provided by NetGalley in exchange for an honest review.
Thank you, NetGalley!