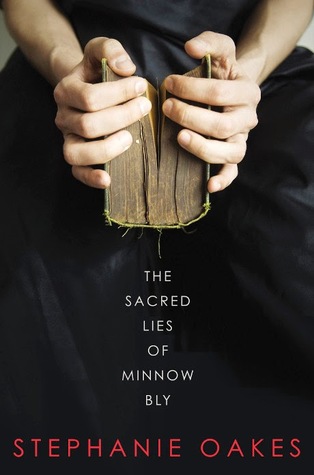 4 Stars
"Everyone always assumes it's with hands that people disobey. The Prophet thought so, too. If only he know, if only everyone knew, my hands were never the source of my disobedience."

This book proves once again that . . . .
Many thanks to
Paige
for the recommendation. To be completely honest, I had written this one off as a "no thank you" due to the blurb. Even though it was recommended for fans of
Speak
, the name
Ellen Hopkins
was also thrown into the mix. Ugh. Good thing I trust my Goodreads friends more than the publicists, because this one was pretty dang good . . . .
The Sacred Lies of Minnow Bly
is the story of – you guessed it, Minnow Bly. Minnow's family became part of the Kevinian cult when she was 5 years old. It was there she learned to follow the teachings of a super creepy prophet . . .
Well, since you mention it –
YES
. No one should have a tooth in the center of their face! But in actuality, the Kevinians were followers of a
REAL
super creepy religious zealot . . .
Minnow's life has revolved around strict obedience. The word of the Prophet was never to be questioned, girls were to remain uneducated and always maintain their modesty until chosen by one of the deacons (or the Prophet himself) for marriage. You know, kind of like the Duggars. When Minnow decided to rebel against the cult, things didn't go well . . . .
And when she finally took the opportunity to escape, she found herself living in juvenile detention for one crime and being questioned by the FBI about exactly what happened to the Prophet and the compound after she fled . . .
I
love
YA that packs a punch and this one was a whopper. Especially when the plot is so plausible. Seriously, if the Branch Davidians and
Girl Interrupted
had a baby you might end up with something close to
The Sacred Lies of Minnow Bly
. A completely unique coming of age story about a girl who learns her entire life was a lie, and that just maybe hope for the future can come from somewhere as dismal as a jail cell . . .
"Here my scars are the only part of me that could be called normal. It seems like every girl here has had their own personal Prophet."