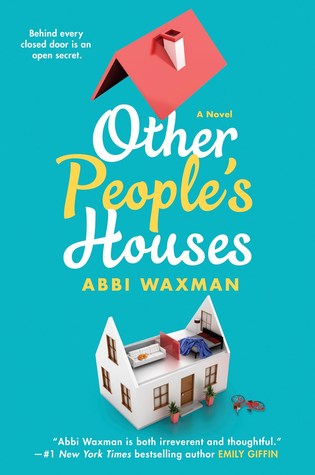 4 Stars
If you're looking for a character like Madeline in
Big Little Lies
(but prefer to leave the dead body out of the picture) Abby Waxman's
Other People's Houses
might be the book for you. The story here is the aftermath of what happens when one of the neighborhood wives is caught in flagrante delicto by the carpool mom. So obviously there's some real shit to deal with, but I'm going to choose to focus on Frances . . . .
You can decide for yourself if you would like to challenge me to a death match in a dark alley in an attempt to steal her from me. But I'm warning you . . . .
"Let's not get into the atom splitting of who's doing more work, stay-at-home parents or not; let's just agree it's a shit show for all of us, and move on."
Wait, it gets better. Like analyzing your toddler's fave television program . . .
She watched Steve do his thing, and continued her inner debate about how Salt and Pepper could have managed to conceive and produce both Paprika and Cinnamon. Salt was a crystal, pepper was a seed pod from a plant, paprika was also a seed pod. OK, so yes, she could see that, but cinnamon was the inner bark of a tree. She had wondered this before, which is why she had Wikipedia'd all that stuff and had, in fact, a fairly high level of knowledge about the international pepper trade as a result. It still bothered her, and she worried that Mrs. Pepper was a little tough on Paprika, especially once the baby came.
But the following is the line that sealed the deal . . . .
Frances pulled off her sweatshirt and bra, enjoying that first scratch of tit-freedom.
If you're an old lady with floppy mom tits, you totally know after that moment you're like . . . .
The only thing I didn't agree with 100%???
"If you and I divorced, I would sew my vagina shut, get fifteen cats, and let myself go completely."
Why get divorced? My husband and I have been married going on 22 years and I'm picking up a new kitten after work tonight . . . .
The other characters are nearly as good as Frances. Don't believe me? Go read my friend
Kristie's Review
. I can't wait to read more by this author.
I checked my copy of this book out from the library, but this is one instance where I really wish I would have known about/requested/received/whatever an ARC so I could have been shoving it down everyone's throat before it was even released . . . . but I wouldn't have been able to share the magic which is Frances quotes so maybe it's a good thing I didn't.