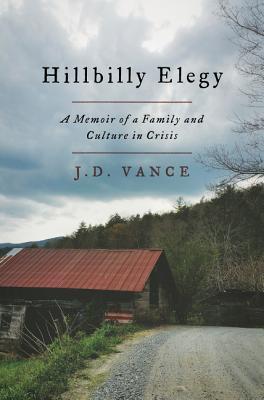 3 Stars
I'm not exactly sure where this ramble is going to go, but if you're of the sensitive nature it's probably a good time to back away slowly . . . . .
Let's get my main bitch out of the way first. While J.D. Vance admits in the introduction that he has not yet accomplished anything in his life, he still turned what could have been a real page-turner of a family history or some sort of socio-economic type of observational study into being all about him. Part of my lack of enjoyment may be blamed on the fact that I work in a law firm so reading the doldrums of the author's schooling/interviewing/clerking processes were all a massive snoozefest for me and seemed like filler when the author should have just quit while he was ahead. Another reason is I'm flat out tired of famous 20 and 30-somethings writing their "life stories" when they haven't even lived yet. When non-famous people do the same my reaction can get a little more volatile when it comes to their personal horn tooting . . . .
The main problem with
Hillbilly Elegy
is that it isn't quite sure what type of book it's supposed to be. I wish Vance would have stuck to this being a "memoir" as the title states. He could have followed the direction of Jeanette Walls and written about his childhood – with a particular focus on Mamaw. Mamaw might be my favorite character of all time. I'd say I want to be just like her when I grow up, but I'm almost certain I – along with the people I choose to surround myself with . . . . .
(view spoiler)
[
(hide spoiler)]
already are (minus the pistol packing and hoarding of garbage). Mamaw was the glue that held a pretty sprawling family together. Nearly every story involving her had me busting up laughing. She was someone who came from nothing and took no shit when it came to keeping what little she had together . . . .
"Mamaw told Papaw after a particularly violent night of drinking that if he ever came home drunk again, she'd kill him. A week later, he came home drunk again and fell asleep on the couch. Mamaw, never one to tell a lie, calmly retrieved a gasoline canister from the garage, poured it all over her husband, lit a match, and dropped it on his chest. When Papaw burst into flames, their eleven-year-old daughter jumped into action to put out of the fire and save his life. Miraculously, Papaw survived the episode with only mild burns."
Rather than not trying to fix what wasn't broken, Vance's work becomes a bit schizophrenic when it migrates from memoir and attempts to focus on the community as a whole. Although many of the attitudes and mindsets contained within the pages of this book were already well covered with the HBO documentary
American Hollow
,
Hillbilly Elegy
does a bit of bait and switch by taking the hillbilly out of the hills and instead following a population who, at some point in their family histories, migrated into towns. Unfortunately, Vance loses focus yet again when he broadens his sights even further and begins talking about working class white men as a whole. I'll let you choose to read the book for yourself and see if it reads with more cohesion for you than it did for me while stating that the people who
should
read this are the least likely to. Mainly those who fit this bill . . . .
"There is a cultural movement in the white working class to blame problems on society or the government, and that movement gains adherents by the day."
That mindset has grown to such epic proportions people are actually offended by women and minorities protesting because "all lives matter" or some other malarkey. Not to mention a twatting ignoramus/washed up reality show star has been elected as President by touting campaign promises like Mexico paying for a wall that will magically eliminate illegal immigration and create millions of jobs. I'll mimic the book and put it on the record that the only people I've ever known who were/are abusing the system have been able-bodied white people, so GTFO with that woe is me bullshit. Although not in Appalachia, I too was raised in a small town (educated in a small town – taught to fear Jesus in a small town ™John Cougar Mellancamp) so I've heard about all I can of this type of rhetoric. At some point . . . .
"you have to stop making excuses and take responsibility."
My family tree has no golden leaves growing from it. We're poor, most of us aren't well educated. We've been down and out, but thanks to the values instilled on us by our grandparents and great-grandparents and those before them, most of us simply pull ourselves up by our bootstraps when life gets rough. Those who don't? Well, the longer they remain on this Earth the more glaringly obvious it becomes that they don't want to do fuckall while they're here and it won't matter a diddly dang dong who the damn President is.