5 Stars
It's time once a year for my library's Winter Reading Challenge and my chance to score a
FREEEEEEEE
coffee mug. (Yes, I am the cheapest date you could ever imagine.) This year's theme????
Basically any book that became a movie or television program. It turns out this is apparently
the list
of recommended reads I grab onto each year because I had read a bigly portion of the suggested titles (and had less than zero interest in some of the others). I had put
A Dog's Purpose
on the wait list after seeing the preview when I took my kids to see
Sing
- a movie everyone else apparently loved but I thought was super . . . .
My eternal hold finally ended and it was my turn at the perfect time and I read this book on Day 1 of the challenge. And pretty much looked like . . . . .
The entire flippin' time I was reading.
The story is about a dog who . . .
"Was seized with an inexplicable question, a question of purpose. This didn't seem like the sort of thing a dog should think about, but I found myself returning to the issue often. Why? Why did I harder a nagging feeling that as a dog there was something I was supposed to do?"
Which leads to discovering that . . . .
"Of all the things I'd ever done, making ____________ laugh seemed the most important. It was, I reflected, the only thing that gave my life any purpose."
And then . . . .
Followed by the dog being reincarnated only to discover . . . .
"This was, I decided, my purpose as a dog, to comfort the boy whenever he needed me."
And . . . . .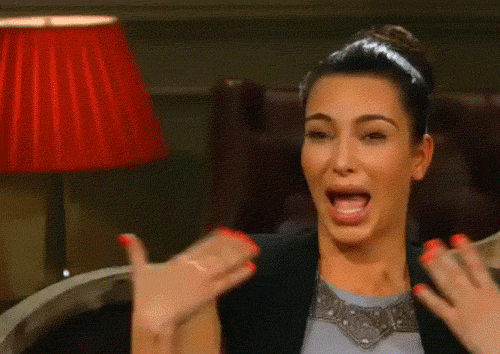 But not only did the dog provide comfort . . . .
"My purpose, my whole life, had been to love him and be with him, to make him happy."
And oh my god . . . . .
Then the dog came back AGAIN and began to question . . . .
"Could a dog have more than one purpose?"
Leading to . . . .
"I was a good dog. I had fulfilled my purpose."
By this point I looked like I had been punched in the face and my family was like . . . .
But the story wasn't over yet and I bet Kleenex stock prices went through the ROOF this morning. I don't often have emotion (other than happiness and anger), but when I do everyone should watch the eff out.
Please note I realize this is not necessarily a "good" book – it's written from a dog's point of view so it's pretty simple and it definitely is designed to make you feel all of the things, but I give zero shits. I love dogs and I hate almost all people so it worked great for me.
#honeybadgerdon'tcare #evenrobotscry #trollmeandi'llcutyou