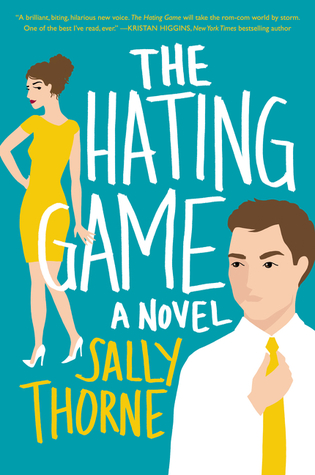 5 Stars
Before I even begin, let me say one thing:
SOMEONE BUY THE RIGHTS TO THIS IMMEDIATELY AND MAKE IT INTO A MOVIE!
I swear to the good lort above it will be a blockbuster.
The Hating Game
is about Lucy and Joshua (bonus points for having actual human names and proving right away this wasn't going to be some kind of crappy angst-fest). When the publishing houses the two worked for were forced into merger it left not one but two CEOs, neither of which wanted to lose their executive assistant. That means every day arch enemies Lucy and Josh are forced to sit directly across from the other, picking apart every little thing about the other that drives them insane. You know what that means, right?????
So here's the deal, I'm pretty sure this was a Goodreads "recommended to me"
spam
suggestion that finally won me over after popping up on my feed for weeks on end. By the time I requested it from the library (and saw
Bonnie's
review the very next day), the waiting list was long enough to make me rant about it. (See below for further crybaby details.) My hopes were so high that I was terrified things would go
horribly
. On Saturday I
shoved
gently got my children on their way to various sports practices and sat down with a cup of Joe prepared for disappointment. What happened instead was I read the entire thing cover to cover and thanked the tiny 8 lb 6 oz baby Jesus for my alone time because . . . .
At this point I think my husband has been slipping me some kind of happy pill because I have been enjoying nearly
everything
I've read the past month or so. Such is the case with
The Hating Game
. I loved this one so much I don't even know what to say about it. This story had me right from the start with leading man Josh being eleventy feet tall compared to Lucy's five feet nothing. And even though Lucy was described as dark haired, I couldn't get this image out of my head . . .
Because I already saw that movie once and I loved it.
This entire book was the most adorable thing I've maybe ever read. From Lucy and Josh hating each other, to the elevator moment when you find out maybe they don't, to Lucy's inability to contain herself and therefore morphs into a crazy almost rapey spidermonkey trying to lure Josh into doing the nasty . . . .
"I was hoping you'd participate more.

"I'd participate. So well, you wouldn't walk straight the next day."

"That's okay, walking is overrated."
To the two eventually falling in luuuuurrrrrrrv . . . . .
"You sure are good at holding hands."

"I'm probably not good at a lot of things, but I will try to be."
This was everything I wanted it to be and more. My poor little heart. It can't take it!
Ugh. I've been emotionally compromised.
I don't know what else to say. If you're someone who occasionally likes to hear about someone who wants to be a man who has been to a concert with a girl in a red dress. Just for a few minutes more . . . .
Or about wanting all of you, forever, everyday. You and me... everyday . . . .
Or maybe just I like you, very much. Just as you are . . . .
Or that a couple should get their happily ever after so they can kiss anytime they want . . . .
This is the book (and hopefully soon to be movie) for you. If you don't like it??? Well . . . .
Sally Thorne, if you can see this, please know I am in love with your book. This is the best romance I read in 2016 and I can't wait to see what you come up with next. Normally when I'm gifted something from a book fairy, I pay it forward. Sorry suckas – not this time. I am going to read this overandoverandoverandoverandover again until it falls apart.
ORIGINAL "REVIEW":
Here's a little story about how one day I was airing out my enormous first world problem of being
FORTY-SOMETHINGTH
on the library waiting list for this book (completely unacceptable – either people need to stop wanting to read the same things I want to read or the librarian needs to bump me ahead of everyone else) when a certain someone casually stated, "oh I won that on a Goodreads giveaway – I just haven't ever got around to reading it." Then I called her foul names and declared her part of the conspiracy theory to keep me from actually reading the stuff on my TBR that I want to read. Fast forward a couple of weeks to the mailroom guy delivering me a little package containing . . . .
I'm sorry I called you names in my fit of jealousy,
Shelby
. You are the best thing that ever came from me joining this silly site of misfits – even when you don't send me free stuff : )