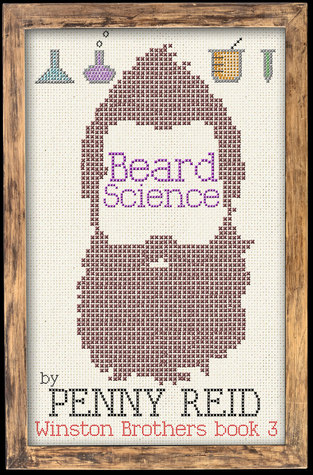 3.5 Stars
Let me begin by stating how refreshing it is to have one of these super smart journals actually embrace the term science on behalf of all of us
pervs
researchers
. Mmmmmmmmm . . . .
Let me also state that if you are looking for a super
sciencey
type of story you will most definitely end up suffering from quite the case of
caeruleus cōleī
(that's blue balls for all of you imbeciles who don't speak Latin) because these sumbitches don't get down to business until pretty much the last page.
Beard Science
is the story of the brother known as Cletus Winston. In the first book of the series Cletus proved that . . . .
Due to a first world problem the porny librarian failed to obtain a copy of #2 thus forcing me to skip that volume and read this instead because
SEVEN DOLLARS
???? I'm way too poor to spend more than a couple of bucks on porn. Also, I don't have Kindle Unlimited so save your breath and yes I do bitch about the price of books because in case you haven't yet heard from the masses I'm . . . .
Don't get me wrong. Authors can ask whatever amount they like. I just know I can't in good faith end up taking $7 multiplied by however many books this ends up with (because even though there are only 6 brothers there's also been two of the love interests' brothers introduced that could easily spawn more stories).
Anyway, back to the book. Cletus is quick to become a fan favorite because he's smart, funny and a little bit sneaky. For some reason my brain kept telling me he looked like this, though . . . . .
And I didn't much want to make any of the sexuals with him until I started this book and he reiterated the fact that he was a bushy bearded curly headed blonde enough that
finally
I recast him . . . .
(Don't talk shit about McConaugheyyyyyyy-hooooo heyyyyyy hooooo either because he still makes my panties drop.)
There was also the problem with the leading lady Jennifer the "Banana Cake Queen" . . . .
Again, in #1 she was merely a blip on the radar screen, but she was enough that I wanted to swat her like a fly out of the series before she could become a main character. Obviously that didn't happen and sadly my opinion of her didn't much change. Although an attempt was made at giving her a redemption arc, for 99.99999% of the book she was a bit of a moron and a total pushover. I just couldn't ever be friends with that girl. (Again, I'm the worst.)
So the story is that Jennifer thinks she needs to land a husband and start popping out babies in order to get out from under her parents thumbs. In order to do so she
blackmails
enlists the help of Cletus. Cletus will teach her how to interact with other humans in a non-creepy way in order for Jennifer to land the man of her dreams. In reality it probably goes without saying Cletus ends up falling in love with Jennifer himself and does everything in his power in order to sabotage the attempts of any potential suitors to woo the lovely Banana Cake Queen. Fastforward to the end and, to quote the modern-day masterpiece which is
Sixteen Candles
: Then they "do it on a cloud without getting pregnant or herpes." Well definitely not herpes. Since this followed nearly every lesson taught in How To Make A Romance Novel 101 and one of the Winston brothers already proved he was spurtin' some serious swimmers she probably got pregnant the first time they had sex.
I'm giving this one 3.5 (Me = Worst), but please note I thought it was tons of fun and I'm completely enamored with these Winston boys. I am nearly positive I'll end up reading this entire series (and probably even fork over my nickels and dimes if need be). Obviously I'm desperate for the final book about Billy because . . . .
But Roscoe the sexy veterinarian is quickly becoming a
THIS IS AMERICA I WANT IT NOW
selection too . . . .
First we have to get Beau's story out of the way, though. Since it's pretty obvious Shelly is on the spectrum I'm crossing my fingers Ms. Reid doesn't suffer the wrath of the triggered once it is released : (