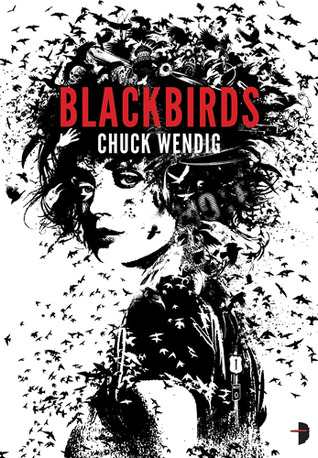 4.5 Stars
I finished
Blackbirds
a week ago, but since this was a buddy-up with a group that pretty much resembles this . . .
I'm just now posting a review. Good news is I'm not the biggest slacker in the mix since the intertube gods have been working against
Delee
from the jumpstart and
Ron 2.0
most likely won't get a review posted until 2019 or therabouts. Turns out
Shelby
was the Emily Post of etiquette when it came to this read, so you know prepare for the end of days and all that.
Herein lies the rub with this book - I don't know what the eff to say about it. Miriam Black is hands down my favorite female lead of all time. Not only can she see how someone is going to die, but she also kicks ALLLLLL of the ass and has a mouth that could fill a Federal Reserve sized swear jar . . .
Rather than being an idiot fangirl, I'm going to let the book speak for itself . . .
"Can I keep telling my story, here? Your readers are going to be on the edges of their seats."
She ain't kidding, folks. As I said before, Miriam can tell how someone is going to die if she makes contact with them. She's resigned herself to the fact that . . .
"Everybody dies, just like everybody poops."
Up to now, her experiences have been pretty much a turd buffet . . .
"What do you tell a girl with two black eyes?"

"Nothing you haven't told her twice already."

"Way to blow the punch line," she says. "I thought I had one up on you."

"Nope. Not me. Besides, I only count one black eye on you."

"Then maybe I haven't learned my lesson, yet."
Allow me to take a moment to . . .
My apologies, but I mean seriously I am in love with this woman. Anywho, when Miriam catches a ride with trucker Louis she has an experience she's not familiar with – that SHE will be present when he dies. She learned her lesson about intervening with the fickle fingers of fate years ago, but this time HER life might also be on the line. Will she try to save Louis and/or herself, or will she stick with her motto . . .
"It is what it is."
This book is getting 4 Stars for the simple fact that NOT EVERY G.D. BOOK HAS TO BE PART OF A SERIES. I mean really.
Blackbirds
was damn near perfection and the ending was 100% satisfying to me as a stand-alone (which is what I will pretend it was). Disregard the idiot genre choices of GR and choose this one the next time you want an action-packed gritty thrillride voiced by someone you've
never
seen the likes of before. And as a bonus – you'll experience Mitchell's favorite chapter of all time: "INTERLUDE – HARRIET'S STORY" . . . .
Tune in for our next buddy read, when we force both Ron and Edward to read . . .