2.5 Stars
In one day Maddie dumped her boyfriend and got fired from her job. When news arrives that her recently deceased mother has left an inn to Maddie and her two half-sisters she can't imagine better timing for starting over. Unfortunately when she makes it to the Lucky Harbor Inn in Lucky Harbor, Washington she discovers her sisters do not share Maddie's interest in running the inn, but want to sell and get back to their own lives ASAP. Especially when they actually
get
to the inn and discover . . . .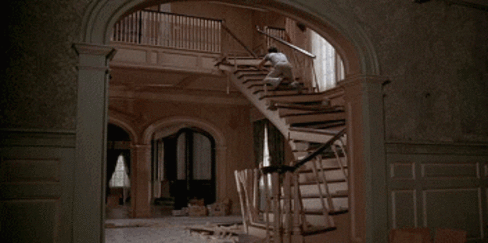 Okay, maybe not
that
bad, but definitely in need of some work. Enter Jax. Handyman by day and . . . . well, you'll find out everything you need to know about him if you choose to read the book. Not only is Jax adept at the hammer, but Maddie quickly discovers that . . . .
However, she's sworn off men and she's only going to be in town for a few weeks anyway so she definitely doesn't need any complications. Right????
So there you have it. I moused over to the porny library site
immediately
after reading
Karen
update about some shower sexuals that had my glasses fogging up. I had never heard of Jill Shalvis before, but apparently she's written about eleventy thousand books because the library had a good 20 or 30 available in Kindle format for request. This one ended up being just okay for me, but let me 'splain myself and you might find my problems aren't going to be anything that would deter your enjoyment.
I loved the idea of these three sisters who hadn't grown up together/didn't really know each other getting thrown together as their mother's last wish and taking over the inn. I realize this was the first in a series and Shalvis probably already knew what direction she wanted to take, but for me there was waaaaaaaay too much ado about nothing when it came to the other two being so desperate to cut and run. It was pretty obvious that wasn't going to be the end result.
My main issue, though, had to do with the tired trope. I realized things were going South when (despite the quality bathing ritual mentioned above), my husband walked in to the reading room and asked . . . .
I am not a fan of the left an abusive relationship and the only thing that will make me whole again is this fella and his penis because . . .
These broads need therapy and a lot of it. They don't need to get banged. And yes I know it's all fantasy, but this particular blend of tea isn't very palatable to me.
I'm also missing a couple of chromosomes so every time the leading male's (who was basically the wet dream of any woman who has ever swooned over a Nicholas Sparks leading male) name Jax was mentioned my brain kept thinking things like . . . .
To remind me that Jax is NOT a super saccharine pansy boy like I was supposed to be thinking of.
Then there was the leading lady Maddie Moore, which my brain insisted on calling Mandy Moore. And while I realize Mandy Moore is in a television show that maybe I'm one of only 10 women in America NOT tuning into every week, in my head she'll always be . . . .
Actually, it would have been so much better if she was a little more aggressive.
Anyway, for the above reasons this one ended up being "just okay" for me (hence the middle-of-the-road rating),
BUUUUUUUUUUT
I would read more of this series (1) assuming the storyline actually progresses at more than a snail's pace – if you have read it and know that it doesn't do me a solid and let me know (2) I want to see what happens when the inn is reopened and (3) I want Tara and Chloe to make all the sex with Ford and Sawyer.