3.5 Stars
"His smile is infectious. Then again, so was the plague."
I'm pretty sure my husband tried to sext me last night while I was finishing this book . . . .


He should know by now that nobody

puts Baby in a corner

interrupts my reading.

He should also be thankful it took me so many days to actually read

Smut

because things might end up working in his favor after all. I had every intention of reading this on Friday, because not only was it my birthday, but I had to work and I was just

dying

for the chance to answer the daily "What are you reading, hmmmmmm?????" question with

"SMUT!", but then work got worky and

Cottonmouths

was waiting at the library and then maybe Michael Phelps was going to be eaten by a shark on live television and I had to catch up on

Big Brother

, so I finally circled back to this on Monday. It probably ended up being the best thing that could've happened with respect to my enjoyment level too 'cause the outcome did not look so good when I first started.



It all began with a sad attempt at a proposal . . . .




Followed by projectile vomiting from our female lead that made it pretty clear the answer to the popped question was a definite negatory. Things then fast-forwarded to a creative writing class where our h is disgusted on the daily by the local manbearpig H pretty much just because he exists. Normally that would annoy me, but he drove a car he called "Mr. Mean" and had a British accent that appeared would only come out when he talked about "arses," so I was kind of crossing my fingers for some more of that vomit and for it to be pointed right his direction. Not that the h wasn't tired as eff too – with her
"cayenne pepper and cinnamon"
colored hair . . . .
Let's just say I
was not
feeling things. Everything felt like it was trying waaaaaaay too hard. However, when I picked this up after my brief hiatus, things got better. Amanda and Blake got partnered up for a class project (because duh), we learned that Blake was in need of some quick cash and we met Amanda's roommate Ana . . . .
As well as Blake's roommate Fluffy . . . .
Things really started looking up when Blake convinced Amanda to team up with him and write some self-published erotica in order to get the albatross of debt that was strangling him off his neck. Their quest for a pen name had me giggling . . . .
Even though they should have went with the obvious choice – Dick Butkiss . . .


Their descriptions of male and female main characters in most pornos was spot on . . .



"Dirty talking alpha male. Extremely large penis. Built like The Rock. A millionaire is good, but a billionaire is better. Make sure he donates to Africa or does some charity work, even though he's an asshole with a damaged past."



"Must be a doormat and void of personality or any interesting characteristics so that the reader can interject their own selves. A virgin is preferred, but she must be able to get off on command. Condoms aren't necessary, but ropes and whips are. She must refer to her vagina as 'her sex' and be clenching constantly."



By the time they started brainstorming plots I thought I might piss my pants . . . .



"Spread Open: A Gynecological Love Story

- Nelson Dunsmuir was one of the world's best Navy Seals. But when a mission goes wrong and he loses his best mate, he quits the Seals and decides to go back to his first career – gynecology. The moment Pender Galiano walks into his office needing a pap smear, Nelson knows he has to have the gorgeous virgin. But when old enemies rise up, Nelson has to protect Pender at all costs, even though loving her may cost him his life."



That's not to say things were

perfect

- especially when the two had their first kiss and we learned that Amanada . . .



"tastes gorgeous, like mint and orange."



Excuse me?

MINT

and

ORANGE?!?!?!?!?!?! Like . . . .




Gross.
But then
stuff and things
happened . . . .
And I pretty much forgot alllllll about everything hat had bothered me because this sucker was hot . . .
3.5 Stars, but rounded down because it took quite a while to remove the initial bad taste in my mouth – even worse than toothpaste and orange juice. Eventually, though?????
Yep. I could. I also got a perverse enjoyment from the talk about 1 and 5 Star reviews when a book isn't even out yet as well as some spilled tea about someone who
"all this time she's had a blog and leaving authors all sorts of nasty reviews, then gives her own books five stars"
. . . . .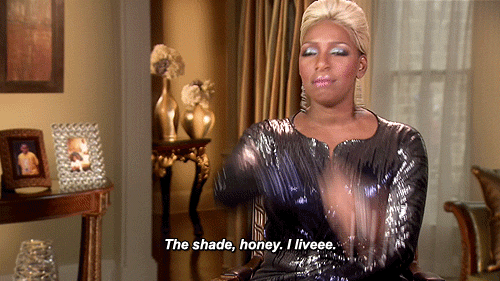 I'll definitely be picking up more Karina Halle in the future. Hear that, porny librarian? I bet you've missed me and my demands. It's been like three days since I harassed you for a new book.