3 Stars
A few weeks ago I read a
porno
scientific journal about a doctor with a manbun. That imagery didn't work out so well for me, but since my brain is a disgusting pervert it simply ignored those references and thought splooshy things about Dr. McSteamy instead. But the pervert inside my skull kept nagging me with the question of just what profession (other than rock god, natch) would longhair be splooshtastic. Then I remembered this series about farmers and this cover and oh my word . . . .
And this is the part where authors should never worry about how I've rated their previous books. After finishing this second book I pulled up my review for the first where I left a clear reminder to myself to not read any more of these. Good try, brain! Too bad I'm a fucking idiot and forgot. I actually really dug this one until the second half when tropes got tropey and my ladygarden dried out – but I'll get to that in a minute.
The premise of
Cream of the Crop
is that Manhattanite Natalie spends every Saturday morning perusing the offerings at the farmer's market with her final stop being Oscar's booth where she purchases . . . .
"Cheese. Cheeeeeese. What a thin, flat, nasal-sounding word for such a luscious, rich, gorgeous thing. Hard. Soft. Ripe. Grainy. Creamy. Often stinky. I'd yet to find a cheese I didn't adore."
Just reading the above had my gastrointestinal system reminding me that I could never be a cheese connoisseur . . . .
We quickly discover that Natalie is a hot redhead, because . . . .
As well as being not-your-average-smexybook-leading-lady . . . .
Yep, ol' Nat is a tried and true husky gal . . . .
"Size-eighteen women were supposed to be timid. Size-eighteen women were supposed to be grateful for any male attention, and to feel especially honored if a good-looking man paid attention to them. Fuck all that noise."
Now, please note that I could really give a shit whether the broads in my porn are fat or thin or anything in between. 99.999999% of the time, I'm reading for the peen. Thanks to Natalie's description of the dairy farmer . . . .
"I'd dated bad boys, and I'd fucked my share. But this guy was like . . . hmm. Cross a bad boy with a supermodel, add a dash of linebacker with a big scoop of Polynesian love."
Along with a public service announcement type of commercial that plays incessantly . . . .
I got to announce just how gross I am and twisted that sweet daddy/daughter moment into my porntastic fantasy while I pictured Roman Reigns as Oscar Mendoza . . . .
#growwwwwwwwl
Things were going swimmingly with a female lead bursting with (almost too much) self-confidence and a sexy farmer who had me chuckling as he learned just how important a comma is when Natalie couldn't quite figure out if he was trying to tell her about her
"great big ass"
or her
"GREAT, big ass."
The first meet/cute between Natalie and Oscar where she went all West Side Story thinking that it "could be, who knows????" had me grinning from ear to ear . . . .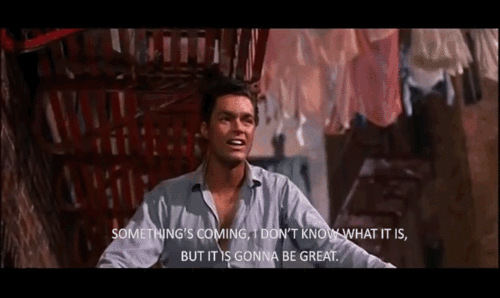 And Natalie's internal playlist had me channeling my inner Pixie with reference to "Here Comes Your Man." Unfortunately the never ending song stylings got old real quick . . . .
But there was still so much working for this book. Mainly all the . . . .
Then we got introduced to Oscar's super passive aggressive ex-wife and he became a fucking moron with zero clue about what is normal/not normal regarding how couples should behave after they get divorced and Natalie did a 180 and became all broken and pathetic because of some fat-shamey type of boyfriend she had way back in the dizzle and my lady boner wilted and I got a little ragey.
This one will probably work better for nearly everyone else than it did for me. If you aren't one who falls victim to endless eyerolls due to the stupidity in the paragraph above, you'll do just fine. You'll even get a good ol' fashioned
It's a Wonderful Life
type of wrap-up if you stick around . . . . .