4 Stars
"The world may be mean, but people don't have to be, not if they refuse."
If you want an actual review, I highly recommend leaving this space immediately and re-routing yourself over to
Snotchocheez's
space instead because if you stay here you're going to learn that much like Liz Lemon, I pretty much do whatever Oprah tells me to do. When I saw Book Club 2.0 on the horizon I put myself on the library wait list immediately. Surprisingly my turn at
The Underground Railroad
came up after only a couple of weeks. Here's how I picture Oprah reacting to this news . . . .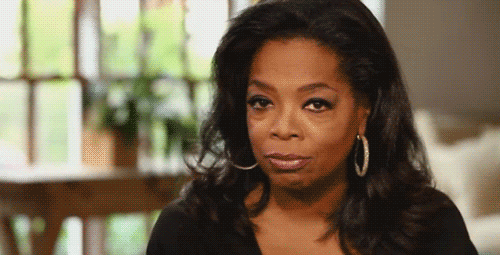 Obviously the title gave an
eensie
little hint that I might be reading a slave story (I'm real smart when it comes to figgurrrin' stuff out like that), but I didn't ever bother reading a synopsis . . . because Oprah.
The story revolves around Cora, a slave born on the Randall plantation in Georgia to the only woman who ever escaped – a woman who did so without taking her daughter along. When Cora is given an opportunity to run away after being brutally raped and later beaten she jumps at the chance and is informed of something known as the Underground Railroad. Now, all of us have heard of this before (if you haven't, do me a solid and don't even think about voting for anything ever in your life), but Colson Whitehead delivers his version with a twist that I had no idea was coming . . . .
Yep, the train is an actual train. Unfortunately it doesn't lead to Hogwarts, but rather to a series of stations over the course of Cora's journey that serve as a reminder of the various atrocities faced by African Americans throughout this country's history while somehow remaining true to the era originally presented. It was fascinating and a completely new spin on a story told countless times before.
As a warning to anyone who may be interested in case you aren't already aware – you should always expect some misery with
any
of Oprah's choices. This being a slave narrative I figured there was a good chance I'd look a little like this by the time I was finished . . . .
And I will say
The Underground Railroad
didn't pull any punches when it came to brutality so only you can determine whether or not you'll be able to stomach it. However, much like Superman I am a
wo
man of steel and was able to brace myself for the inevitable horrors I knew would be presented to me. If you're looking for a new voice in "book clubby" type literature, Whitehead might be someone to keep your eye out on in the future. He (and Oprah) did not disappoint.